Blonde sexy shag? Or dark curly locks?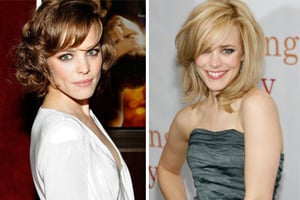 This is a TotalBeauty.com celebrity hairstyles article
At the premiere of her new film "Morning Glory" Rachel McAdams sported a blonde sexy hairstyle to kill. Do you dig it? Or do you like the dark curly 'do better?
Hey friends! Print this out and take it to the Arizona Hair co near you! I am planning to go see Star Flores, my favorite Arizona Hair co stylist at the Tempe Marketplace store and get a Rachel McAdams Morning Glory styled long shag. No blonde for me though, sticking with the brunette.
Now, the coupon came in the email in a fancy lil' box that didn't copy and paste well...so either print this in it's entirety or visit their main website and click on the coupon tab. Enjoy!
---------------------------------------------------------------------------
$10.00
Haircut
Only on Nov. 26th 2010
ARIZONA HAIR CO.
BLACK FRIDAY ~SPECIAL~
$10.00
Haircuts
In honor of Black Friday, Arizona Hair Co is offering you $10.00 Haircuts all day. Present this coupon at your nearest salon location to receive this special pricing.
We appreciate your business, and hope you will visit us again!!
Visit us at
www.arizonahairco.com
to find the salon nearest you
Remember: you are beautiful! Thank you for visiting the blog and check back for promotions and beauty giveaways!