We take the guesswork out of what you should buy your guy this year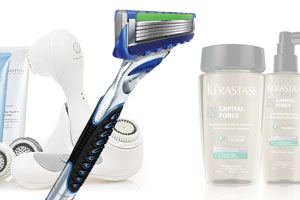 This is a TotalBeauty.com hair care article
From shaving gel to cologne this guide is full of grooming goodies galore.

Merry Christmas my friends! For your man or for yourself! Enter today to win some Hey Dude! Skincare!
Subscribe and comment to win: what is your favorite Hey Dude! product and why do you need it this Christmas?

*(Contest open to the continental United States and persons 18 years of age or older, 1 winner chosen randomly and contacted by email. When responsding please include an email to be contacted with.)

What is a dude?
•fellow: an informal form of address for a man; "Say, fellow, what are you doing?"; "Hey buster, what's up?"

•dandy: a man who is much concerned with his dress and appearance




Supplying today's men with the products they need to look and feel great is new male grooming company, Hey Dude Skin Care. The company offers a premium line of products that are designed to give the modern man the essential tools to combat the natural effects of aging and external conditions affecting his skin. Made from high quality organic ingredients like hyaluronic acid and essential nutrients, Hey Dude Skin Care products perform the most vital of functions to help a man protect, repair, and maintain his skin.

"Women have always been conscious of their appearance and, fortunately, we've always had a market to supply us with our beauty needs," says Susan Berner, CEO and Founder of Hey Dude Skin Care. "Until recently, men really had no choice but to rely on the skin care products that were formulated for female skin. The combination of men becoming more educated about their skin's needs with the male grooming industry reaching an all time high has made it the cultural norm for the typical 'macho man' to add moisturizer and eye cream to his daily routine," says Susan.



Hey Dude Skin Care: Grooming for the "Every Man!"

Hey Dude Skin Care consists of revolutionary products for a wide variety of male skin types. These functional products are broken into four main categories to cleanse and moisturize deeply into the cellular level of a man's skin. Below is a full list of products initially offered from Hey Dude Skin Care.

Cleanse: For the Slacker Dude

•Clean Skin: A gentle but powerful cleansing gel, enriched with a variety of natural ingredients like olive oil castile that cleanse and refine the skin's texture. Clean Skin also eliminates impurities, leaving the skin feeling fresh and energized. Clean skin is ideal for preparing the skin for shaving. Price: $ $9.50 (4 oz.)

•Dude Wash: A thorough face cleanser containing 10% glycolic acid, a quality ingredient that improves the skin's tone and texture. Dude Wash visibly lifts dirt, oil and dead skin cells to reveal smoother, healthier and brighter looking skin. With daily use, it helps to reduce age spots, acne breakouts, excess oil and fine lines. Price: $ $16.50 (4 oz.)

Shave: For the Not-So-Smooth Dude

•Nary Hairy: A product with scientifically proven ingredients to decrease hair length and density that offers the finishing touch for a complete shaving experience. Studies have shown that Nary Hairy can decrease hair length, reduce hair density, and slow facial hair growth. What better way to combat tough beard than a product that inhibits hair growth all day, while simultaneously moisturizing and protecting the skin underlying that beard? Nary Hairy is the perfect way to have a Five O'clock shadow show up late! Price: $ $32.50 (4 oz. cream)

•Aftershave: A post-shave liquid containing seaweed extracts that combine with the proteins of the outer layer of the skin and the hair to form protective moisturizing complexes. Efficient hydration enhances the skin's natural ability to repair itself. Seaweed extracts decrease the irritation caused by shaving and depilation. Aftershave calms and moisturizes, as well as reduces skin redness and razor burn. Price: $ 13.50 (4 oz.)

Anti-Aging: For the Forever Young Dude

•4 Your Eyes Only: A unique eye cream that boasts a powerful combination of active ingredients designed to both moisturize and repair/protect the sensitive skin around the eyes. The eye area lacks the natural oils that appear elsewhere on the face. With continued use, 4 Your Eyes Only reduces dark circles and puffiness under the eyes, all while strengthening capillary walls. Price: $ 29 (.5 oz.)

•Young Dude 4 Ever: A premium, clear moisturizing gel containing 100% pure hyaluronic acid, one of the best humectant agents for the skin. Hyaluronic acid has the capacity to retain 1,000 times its weight in water, with the ability to draw moisture directly from the air into the skin. Users benefit from greater smoothness and softening of the face, as well as prevention of early wrinkles. Pure hyaluronic acid provides the skin with unsurpassed hydration and protection. This superb moisturizer is ideal for all skin types. Price: $ $46.50 (2 oz.)

•Moisturize: A premium, clear nutrient-rich and oil-free gel boasting quality ingredients including seaweed extracts and hyaluronic acid. Seaweed extracts promote the skin's hydration, as well as improve its texture with anti-inflammatory capabilities. Hyaluronic acid is an outstanding moisturizing ingredient that draws moisture directly from the air. With daily use, this product stimulates new cell growth, while promoting a natural protective barrier on the face. Price: $ $27.00 (2 oz)

Protect: For the Rugged Dude

•Pale Face with SPF 29: The solution to the harmful effects of the sun's UVB/UVA rays. Used daily, Pale Face is an advanced, lightweight SPF 29 sun block spray containing ingredients including titanium dioxide. As part of the daily skin care regimen from Hey Dude Skin Care, Pale Face is a non-greasy formula that absorbs quickly to provide outstanding protection from the long term aging effects of the sun. Price: $ $13.50 (2 oz.)

· Perfect Mineral Bronzing Brush: A carefully crafted product to make skin appear even and smooth, helping to conceal imperfections, while also providing a shine-resistant barrier that lasts for hours. Premium ingredients offer further protection from environmental factors including UVA rays and wind. Price: $28 (1/6 oz)


With women working so hard on looking good, men don't want to be left behind. Fathers, husbands and boyfriends will soon be filling up their shelves with Hey Dude Skin Care cleansers, moisturizers and aftershave products to transform themselves from duds to dudes!

About Hey Dude Skin Care

Hey Dude Skin Care has over 30 years of experience in both Europe and the U.S. , dealing with the complexities and nuances of all skin types and shades. With premium, non-toxic ingredients, Hey Dude Skin Care products are at the forefront of today's revolution in men's skin care and grooming needs. Hey Dude Skin Care products contain only natural, organic and tested ingredients that blend to form high quality products addressing a broad cross section of male skin needs. These products are never tested on animals, and aim to deliver value well in excess. Based in Miami Beach , we've tested our products across a broad array of men with various skin types, and in numerous spas. For more information, please visit:

www.HeyDudeSkinCare.com



Susan Berner, Founder and CEO

Susan is the Founder of Hey Dude Skin Care. She has been actively involved with the introduction, management and delivery of premium skincare products for more than 30 years. As the head of Cleopatra's Secrets, a holding company operating day spas and managing product lines, Susan has long been actively involved with a wide variety of demanding clientele. Susan's European heritage and education also gives her an advantage in understanding and delivering premium products and services to clients who seek and expect superior quality. She leads Hey Dude Skin Care by working with a team of chemists and other skincare experts to bring customers the finest quality product selection for men today



Remember: you are beautiful! Thank you for visiting the blog and check back for promotions and beauty giveaways!