Ditch the boring, over-and-under braid from grade school and try one of these easy-to-copy messy plaits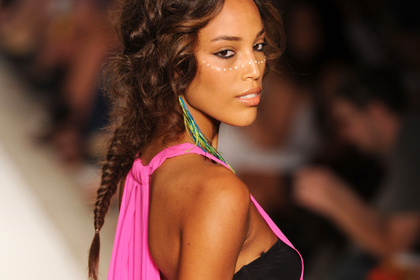 This is a TotalBeauty.com hairstyles article
Just as pagers evolved into smart phones that talk back to you, braids, too, have received a major upgrade from our schoolgirl-pigtail-wearing days. See how the hottest celebs are wearing the trend on the red carpet and off with these unique new styles.
Now that you have the perfect swimsuit picked out for your best summer ever-what about your tan?
You need the sun to help absorb vitamin D into your body but too much sun can bring skin health challenges.
So how do you get a great golden bronze tan without harming your skin with too much sun or tanning bed use?
Simple-pick a spray tan-and best of all, one you can do in the privacy of your own home to help save time and money.
Self tanners have come along way and the DHA (dihydroxyacetone) has improved also for giving a better bronze tone on the skin. If the scent of DHA bothers you, be sure and select a product with 'odor wrappers' like Be Bronze Pageant Perfect.
This airbrush tan in a can is what is used at the Miss America pageants and the ladies look amazing onstage which means you can too.
Spring Break followed by Memorial Day weekend the official start of summer means you need to start planning your tan now.
There are 3 easy steps to getting a great self tan at home:
1. Exfoliate your skin really well and be sure and keep the skin oil free so the self tanner will stick. Use a loofah brush or gloves in a small circular pattern all over your body where you will be applying the spray tan and pay careful attention to elbows, knees, ankles and heels where the tan tends to absorb faster into folds of the skin.
2. Moisturize with a water based oil free moisturizer and let it dry on the skin. Now the skin is ready to be tanned.
3. Time to tan: start at the bottom with your feet and work your way up so there will not be any creasing in the tan from bending over to reach your toes.
The extra benefit of using an at home can of airbrush tanning spray is that they work upside down so you can tan the hard to reach places on your back.
Be sure and place a towel or newspaper down on the floor to stand on so any over spray will not tan your bathroom. If you are using a creme or gel self tanner, keep paper towels close by to wipe up any spills.
If you are using a spray tanner-wear gloves, similar to the kind used for hair color or medical purposes to keep your fingers and palms clean until you tan the backs of hands and thumbs last. The gloves also work well for applying gel or cream self tanners.
Some of my favorite self tanner brands are:
Be Bronze Pageant Perfect available online $25.00
Fake Bake Airbrush Tanning spray available at Sephora $25.00
Jergens Natural Glow tanning cream available at Target or Walmart $10.00
Plan a 30 minute tan session at home to allow yourself time to set up, prepare the skin, tan, and clean up. This extra planning saves you time in a trip to the salon, money on the cost of an individual tanning session and also gives you the advantage of privacy and cleanliness of your own home.
Good luck and enjoy the safe way to tan!
Cherelynn Baker of Makeup University
is a lifestyle beauty blogger with a heart for encouraging women.
Remember: you are beautiful! Thank you for visiting the blog and check back for promotions and beauty giveaways!