Thinking about going under the knife? Make sure you read these common plastic surgery mistakes no one talks about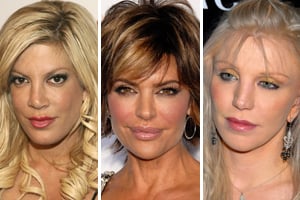 This is a TotalBeauty.com plastic surgery article
Everybody knows the horror stories of dying from blood clots or a heart attack, but there are much more common -- and less talked about -- ways for a procedure to go wrong. Make sure you know all the risks before signing your name on the dotted line.
Hello Gorgeous! Enjoy these looks and easy ways to use inexpensive and easily accessible extensions to clip in an Oscar actress look!
Blunt Bangs: Stars like Rooney Mara, Rose Byrne and Ellie Kemper walked the red carpet sporting bold, blunt bangs. The best way to achieve this look without making a single cut is with the Hairdo Clip-In Bangs ($29; QVC.com), which allows you to get this style without making the major commitment to a whole new haircut!
Ponytails: Pulling hair back into a simple ponytail always add a touch of elegance to any red carpet look. Lusting after the full, sleek ponytail of stars like Gwyneth Paltrow and Sandra Bullock? Try adding in extensions with the new E! Live from the Red Carpet 23 inch Wrap Around Pony ($49; Extensions.com).
Beachy Waves: Long, wavy locks have always been a classic Hollywood hairstyle, but the waves seen on the red carpet this year were more tousled and less perfectly-coiffed. To get the look of Angelina Jolie, Kristin Wiig and Jessica Chastain, give hair a voluminous boost with Hairdo 20 Inch Styleable Extensions ($99; QVC.com) or the Dancing with the Stars Hair Extensions in Go! Go! Girl ($49; HSN.com).
Remember: you are beautiful! Thank you for visiting the blog and check back for promotions and beauty giveaways!