These expert tricks will help get you gorgeous arches at home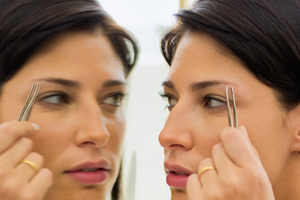 Few things can transform our faces more than eyebrows. It's critical not to overpluck, or pluck them into a bad shape. Doing your own brows can be a little intimidating at first, but with these tips from brow expert Kristie Streicher, from the Warren Tricomi Salons in Los Angeles and New York, you'll be a master plucker in no time.
OK, call me a sicko: I love the dentist scraping and eyebrow plucking.
It may be a small niche of people, but these personal hygiene routines are rather pleasant to me and I look forward to it.
If you are intimidated by waxing or have been hurt by plucking, consider "threading" as done by a skilled Pakistani/Middle eastern woman. The technique originated in those parts and usually comes across the ocean with those that immigrate here.
I like a medium sized brow that can be shaped with powders and pencils or even covered with a wax so another shape can be drawn over it. But that's just me.
Enjoy today's beauty bubble and bravely go the way that most of us have at some time: pluck 'em!
Thank you for visiting the blog and check back for promotions and beauty giveaways!