Real women put them to the test so you don't have to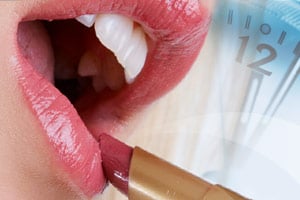 Looking for a lipstick that'll last through your holiday party (not to mention a few trips under the mistletoe)? Well, we've found some for you. TotalBeauty.com had readers try nine different lipsticks that claim to be long lasting in order to find out which ones will really stand the test of time. Check out the results here.
Oy this subject! I love a stain and use one on days where I am going to be working and going from one gig to another with no time in between to re-do my makeup. Thank goodness f or goodies like Benefit's Benetint and Skindinavia's Jet Set makeup setting spray to make it through the day.
Now, I've tried alot of brands of long lasting lipstick and I'm not a huge fan of one or the other because they always dry out my lips. Sure, the color is still there, but lip also looks likes like a brightly hued scab.
Click through on the beauty bubble and review the brands and as always, if you pick up a tube of something and hate it, you can always return or exchange as long as you have your receipt and the package it came in. Good luck!
Thank you for visiting the blog and check back for promotions and beauty giveaways!