Tanning beds are not your friend -- get a perfect sunless tan with these tips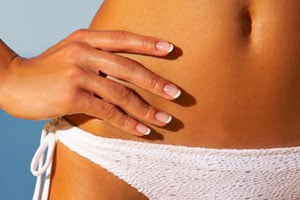 This is a TotalBeauty.com sun care article
Get the scary truth about tanning and then follow this guide to get your best real-looking, fake tan.
Woot! Ladies! Look at this photo: does it remind you of when Dynasty was on t.v.? Does it remind you of Linda Evans as Krystal? Wow, those were the days of big hair and big makeup with even bigger shoulder pads.
Though it is a look, just not a look for me, and it is a form of beauty? So enjoy the photo and the makeup is the new summer 2010 look from NARS. Frankly, I love their products! Good pigments!
If you don't want to go out and get all the products from NARS: print the photo out and head over to your local Walmart of Rite Aid and in the makeup section, match up the photo makeup colors with those on the shelf in brands like Cover Girl, Maybelline, N.Y.C. and Wet'n'Wild. I bet you can find a brand new summer makeup look for under ten bucks!
Go for it because you look really gorgeous today anyways!
Remember: you are beautiful!
Thank you for visiting the blog and check back for promotions and beauty giveaways!