How to look fabulous even when you're pressed for time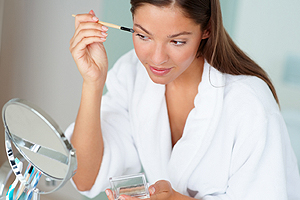 Just because you only have five minutes to get ready in the morning doesn't mean you should run out the door looking like it. (Unless you're going for the bedhead, just-woke-up look. In that case, heave ho!) This step-by-step tutorial will show you how to get a gorgeous makeup look in under five minutes.
Hello gorgeous! Thanks for stopping by today! Before you click through the beauty bubble today for a "how to" on the five minute face, may I share mine with you?
1. All quick makeup is based upon great skin. So the first secret to getting ready fast is taking the time to prepare your skin with a daily cleansing and moisturizing routine. Always wearing a sunscreen helps the anti-aging fight so make sure it's in your moisturizer and foundation. With that out of the way, first makeup step is to put foundation on all over, whether you prefer minerals, compacts, cremes or liquids but make sure to get it through the center of your face primarily and leave it thinner on the outer edges. ( this makes for less chance of a jawline streak since you are in a hurry to begin with)
2. Stain lips and cheeks! I'm so into Bloom Cosmetics right now with their lip marker in Cinnamon
3. Light toned bronzer all over the face in the places you get a sunburn, and include your eyelids!
4. Put a highlighter on the brow bone: creme or powder just add a light shimmer
5. Thick full swoop of mascara, like the new LashFood conditioning mascara
6. Finish with a Bloom lipbutter, or a Burt's Bees tinted stick, or Neutrogena Lip Sheers in spf 20
Since you stained your lips, now it's about adding moisture.
Enjoy your beautiful self on this glorious day! Now go peek at the beauty bubble and see what they say!
Remember: you are beautiful!
Thank you for visiting the blog and check back for promotions and beauty giveaways!