Experts doled out advice to help make your skin look totally flawless -- regardless if it is or not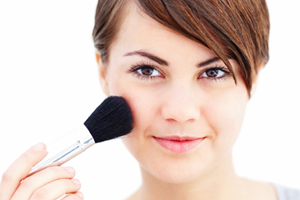 Follow these tips from celebrity makeup artists Charlie Green and Molly Stern to find out how to get skin that looks amazing in every type of lighting.
Hello gorgeous and happy Monday! Wow wow, it's been some weekend! More on that later, what I wanted to share with you now is that it's getting warm, very, very warm in Arizona and the old habit of tanning isn't so safe anymore? I like going to the spray tan booth but don't always have time? Though I just tried the tanning mist from Sevin Nyne and love the rich golden brown color it gives! It looks natural and didn't streak. I also tried the tanning lotion and like it to "spot" tan the tricky areas like my toe knuckles and knees.
What I like best about the product is their slogan " Cherish Your Skin". That's right babe! You need to remember to love what you are in! Keep it safe from harmful sun rays, use sunscreen that is dual spectrum meaning UVA/UVB of a minimum 15 and 30 sounds even better!
This line was created by Lindsay Lohan and celebrity tanning artist Lorit Simon. These two gals have gotten together a great product that I think you may enjoy. For more information, visit the website www.sevinnyne.com Enjoy!
Remember: you are beautiful!
Thank you for visiting the blog and check back for promotions and beauty giveaways!