Hey ya Hot Stuff!
I love false eyelashes and wear them all the time! Now, for your costume party needs or everyday and anyday needs, consider
Eylure
as the brand to go to for your false eyelashes needs.
Why? Because they have great construction and can go from the simple, as you will see in the demonstration below to the extra full and fancy per the Katy Perry designs in the line show here.
If you are in need of a quick costume for parties: maybe put a pair of Eylure Katy Perry Party Lashes on, red lipstick and a black or blue wig and go as Katy?
Now let's go step by step in a review of a different pair of Eylure lashes, the Naturalites.
So for my super busy Monday I put on a pair of Eylure Naturalites-just enough to be camera ready and not look to bold while picking up a few things at the local Walmart.
But then again, what's wrong with that you say? Extreme wind, that's what I say. Suddenly it is extremely windy here! Enough to irritate my eyes and pull on the lashes.
So here is my bare eyelashes, just a little bit of black liquid eyeliner on.
Now here is the Eylure Naturalite laid on top of my lashes with a thin strip of clear glue and I'm waiting for it to set up. In the mean time I am doing my eyebrows and the rest of my face makeup. Oh, look at those red eyes. I was up late watching The Good Wife last night, if you aren't watching, you should be!
And this is the final photo, my Eylure Naturalites are glued on and I've put on one coat of Smashbox mascara to finish the look for the day and seal them on. So natural! Just enough pop for the camera and not putting three coats of mascara and tugging at my lashes.
My favoritething about the Eylure brand is that the construction of these and quality of the hair fiber is so good that you can easily, or at least I do, get several wears per pair! Just be gentle washing your face, use an eyemakeup remover pad to loosen the glue seal and mascara bond then wipe off.
I clean the eyelashes and set them back on the form, brush them to fluffy and let dry so they are ready to wear again when needed! Learn more and get some from
www.eylure.com
or buy at your local CVS drugstore!

The Ultimate Girls' Night Out Makeup
Pull yourself together for a night out on the town with these products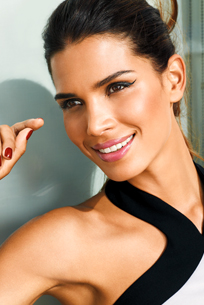 This is a TotalBeauty.com
Makeup
article
You've got the dress, the hair, and the girlfriends -- now all you need is the makeup. Take yourself from girl-next-door to girl on the dance floor with these seven steps. Cue the double-takes!