Want the ultimate guide for your skin? Look no further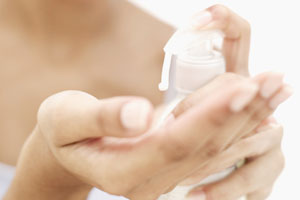 For some women, money is no object when it comes to their skin and looking young. Even if you don't quite fall into that extreme, you'll still love these tips to find your perfect skin care regimen.
Now, while waiting for the brides to begin arriving, I sat down with Cliff Harrington of
http://www.chipandachairsportpoker.com/
to learn how to play Texas Hold'em. As you can see in the photo, that's my poker face and why I don't play cards.
When it came time for my bridal makeup demo, up and coming model Nicole Harrington volunteered for some lashes,stain and Skindindavia. Which pretty much are the three things a bride needs for her bridal day beauty!

As with most of my photos, you can see the angel orbs floating around, which is always a good thing.
And I finished up her makeup with 2-3 light spritzes of the Skindinavia Wedding Bells spray that will help set the makeup so it doesn't move,crease or fade after hours of wear. Really! Try some at
http://www.skindinavia.com/
Thank you for visiting the blog and check back for promotions and beauty giveaways!