Want the ultimate guide for your skin? Look no further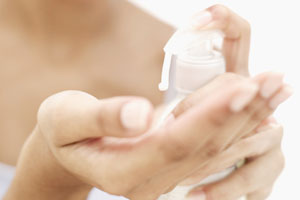 For some women, money is no object when it comes to their skin and looking young. Even if you don't quite fall into that extreme, you'll still love these tips to find your perfect skin care regimen.
Okay ladies...who has a wee bit of crepey skin, or perhaps some "rubber bands" and this area could also be called a t urkey neck?
No need to raise your hand if this is you, but if you are concerned about your neck area, this is a product you may be interested in.
Portrait Collar Restorative Neck Crème
- This neck crème is wrapped in supporting ingredients that combat sagging tissues, diminish lines and promote youthful looking skin.
I tried it for several days and enjoyed several facets of the product: such as I like the fragrance. If you are sensitive to smells, this luxurious creme does have a nice scent. It's a rich texture and absorbs quickly. I tested it and enjoyed it but the real benefits of the product came on my very young grandma who is at 65 a very energetic, active and beauty conscious woman.
She experienced a fullness in her neck skin and less crepiness in the skin. Just a little bit goes along way and absorbed quickly into the skin. She wears her foundation over the product and had no reaction, slippage or breaking up of her makeup.
So if you are looking for a new creme to help erase some years, try Votre Vu Portrail Collar Restorative Neck Creme! And now...for a little information about the company from their website:
About Votre Vu (
http://www.votrevu.com/
)
Votre Vu is a luxurious skin care brand that brings the best naturally-based skincare solutions to the U.S. market and beyond. Harold Zimmerman, the CEO of the company introduced the best of both beauty worlds to the American market by merging French traditions and American ingenuity. Their extensive line offers high standard skincare products including facial care, body creams, and hair care. Votre Vu products not only tend to outer beauty, but ensure that every area of a person's skin care health regimen is tailored to their concerns and needs. Through Votre Vu's successful E-commerce and consultant opportunities, the company offers customers multiple channels of convenient shopping. The goal of the company is to create direct communication between the brand and consumers.
Thank you for visiting the blog and check back for promotions and beauty giveaways!