I have a confession to make... I am a bona fide, hardcore sodium addict, and as result, I have some serious swelling issues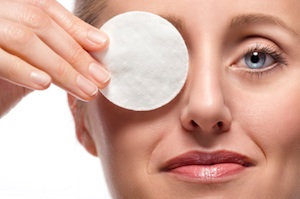 This is a TotalBeauty.com puffy eyes article
Thankfully I found three things that really help to banish the bags without breaking my piggy bank. They are ...

Hello gorgeous friends! Say hello to my new friend,

a busy mom, real estate agent and
Avon businesswoman Sara Hoekstra! She is guest blogging for me today to share with you the beauty of the brand AVON and the benefits it can have on your beauty, your family and maybe even your wallet! She begins her post below-be sure and comment to give her a warm Makeup University welcome! Enjoy!


AVON by Sara Hoekstra
Ever wonder why our Mothers and Grandmothers have been using Avon for so many years? I finally discovered the secret, SKIN CARE!

As Avon's premier anti-aging skin care brand, ANEW's comprehensive line of anti-aging moisturizers treatments, cleansers and cosmetics provides truly age transforming results that help women look their youthful best.

All ANEW Day Creams have SPF 25, which is perfect for the Arizona Sun. This is one of the only Day Creams with this amount of Sun Protection!

The ANEW Clinical line has everything from Cellulite Treatment to Crow's Feet Corrector.

Use ANEW makeup to bring a youthful glow to your face!

Online, in the privacy of your own home, Avon offers the ANEW Guide to looking younger, which includes a questionaire to specifically identify which products and skin care regimen are best for you and your skin type.

Avon offers beauty tips and ideas that are a great help for those looking to switch up their image in the New Year.
With the Satisfaction Guarantee that is offered on all Avon products, order products with no worries.


Visit my Avon store at www.youravon.com/shoekstra and take the ANEW Skin Care Quiz today. Then shop online for the ANEW products to complete your skin care regimen.
Choose Personal Delivery at Checkout for free local delivery and enter Code: CHERELYNN at checkout for your free gift with Purchase.

Feel free to browse around, and contact me if you have any questions, or if you are looking for something in particular.

If you or anyone you know, is interested in making some extra income selling Avon, please contact me at 480-215-4769.



Remember: you are beautiful! Thank you for visiting the blog and check back for promotions and beauty giveaways!