Looking for a nude polish that'll actually complement your complexion? We guarantee one of these 12 new shades will work perfectly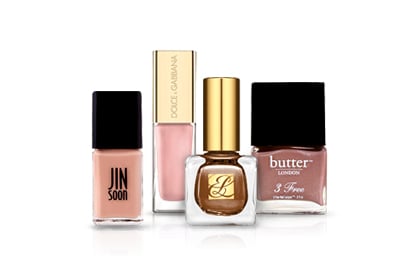 This is a TotalBeauty.com nails article
Move over neon, this fall it's all about nude hues. Though this color is barely a shade, it's still tricky to wear. The key to finding your perfect match is selecting a polish that mimics your foundation color (and not the color of your hands). To save you some time, we've rounded up the best new nude polishes for four different skin tones. Find your best nude lacquer now.
Hello Gorgeous!
Oh how I love finding a new beauty goody! Meet Ginger + Liz, a vegan line of nail polishes with the best packaging ever!
The bottle cap has a touch of rubber and grip to it so there is no more fighting the bottle to get it open! In my opinion, the polish is a touch thicker than others, making it less drippy and runny. I painted my nails with "Most Wanted" and decorated with "Jeggings".
The nail healthy polish retails for $12.00 and you can find online.
Here's a bit from the website about the brand Ginger + Liz:
Ginger + Liz Colour Collection™ is the original vegan-friendly nail lacquer made for style setters. The collection was created in 2009 by Ginger Johnson and Liz Pickett who have a decade of individually unique experiences in the fashion, beauty, and marketing industries. The line is heavily influenced by arts, travel, entertainment and especially the Classic Chic, Modern Luxe, Bohemian Hipster, and Rock Glam fashion driven lifestyles. With vibrant crème pigments, foil like metallics, and a new take on those old, boring nudes, there is something for everyone.

While ensuring the G+L nail colours are tastefully on trend, Liz and Ginger value the importance of knowing what the safer and healthier cosmetic options are on the market. This value was fueled when as teenagers, Ginger and Liz had adverse reactions to toxic chemicals present in a few well known beauty brands. With this value and experiences, it was crucial for G+L nail lacquers to be free of harsh chemicals like toluene, formaldehyde, DBP which are still found in some nail lacquers today. Ginger + Liz nail lacquers prove to be a brand that is health conscious without sacrificing style; a line that will have both classic and on trend shades along with a rich, long lasting, non toxic formula. Ginger + Liz...the necessary accessory!™
Remember: you are beautiful! Thank you for visiting the blog and check back for promotions and beauty giveaways!