Nope, Hollywood hasn't found the fountain of youth. Stars just have amazing tricks to stay (looking) forever young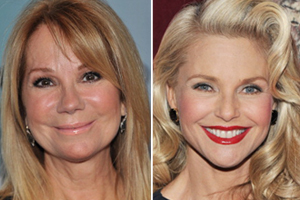 This is a TotalBeauty.com anti-aging skin care article
It's not just genetics that affect our skin. Our lifestyle choices, nutrition, and skin care also play a huge role in how we age. Take these celebrity examples: Kathie Lee Gifford and Christie Brinkley. They're both 58 but Brinkley looks decades younger. How? A few of these expert tips will help you steal her secrets.
Hello Gorgeous!
OH wow! The I Heart Radio festival at the MGM Grand in Las Vegas was live streamed over Yahoo-or a Xbox 360 for those of us who were unable to make it in person.
In the words of Taylor Swift " I'm definitely going next year"!
So here is a short video to share the
Rimmel of London
haul-that I have used to create a P!NK inspired smokey eye and nude lip like what she wore in her set on Saturday.
I did not go into detail in the video about how to get a PINK's mohawk if you have long hair like mine-but here's the short version:
1. Section the top of your head into 3 parts from the forehead hairline to the crown. Tease tight, then smooth over with a brush.
2. I put my hair into a high ponytail-and kept the teased section smooth and tall.
3. Sprayed it all down with some Samy shine hairspray, set a bow at the back of the teased 'faux' hawk and fluffed out the base of the pony tail.
It's a PINK like hairstyle!
Enjoy the video!
RIMMEL of London Products
used:
Glam'eyes HD 004 Green Park or try 007 in Heart of Gold
Exaggerate waterproof eye definer in Emerald Sparkle
Volume Flash Scandal Eyes mascara Stay Matte Pressed Powder in Creamy Beige
NEW Match Perfection blush in light/medium
Lips: Kate 15 for a PINK inspired nude shiny lip, use Kate 10 for a Taylor Swift red lip
Get RIMMEL at any Walmart or Walgreens and it's always under $10!
Remember: you are beautiful! Thank you for visiting the blog and check back for promotions and beauty giveaways!