Celebrities like Jennifer Aniston should be your hair color inspiration, but Lindsay Lohan, not so much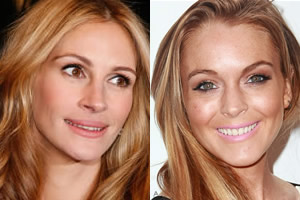 Considering highlights or wondering what went wrong with yours? Let these celebrities guide you towards the best (and away from the worst) highlights for your hair type.
Okay...I want highlights but there is no way that I am doing anything to my hair! Not since the great bleach burn of 2007. See, since the "great bleach burn of 2007" I have used semi to demi color on my hair to keep it dark. Actually darker than it is naturally and I do it to keep the grey away!
So take a look at the pictures and send me your own worst or best highlight jobs!
Or better yet, if you know of a great stylist in the greater Phoenix ( by this I really mean Mesa) area, tell me!
Otherwise I have no choice but to travel to Robertson ave in Los Angeles and have Ken Paves do my hair. That will require a two month mortgage commitment!
Thank you for visiting the blog and check back for promotions and beauty giveaways!