Check out these celebs who are rocking this fiery shade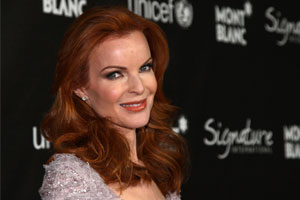 You've probably heard it before, but I'll say it again: Red is the new blonde. Tons of stars are jumping on board with the trend, and we rounded up the ones who are doing it best. Whether they're naturally red or got the shade from a bottle, we can all agree that they certainly stand out in a crowd.
Say hello to my little friends! I just received the Flext-Tastic toe massagers. These blue squishy gel forms massage and relieve sore feet. So I'm going to test it! Now, this week is a fairly light work week for me, though I have two conventions coming up that I will be in heels and on my feet for up to 10 hours! So to prepare I'm going to test how they feel on my normal feet, and then at the end of a series of long heel wearing days.
If you would like to try some too please visit
www.profootcare.com
or visit the foot care section of your favorite drugstore or major retailer such as Walmart or Target. I'll post pics and reports as they come in.
So far, I've worn them for the recommended five minutes...and my feet feel good!
Thank you for visiting the blog and check back for promotions and beauty giveaways!