This how-to will prove that you can lighten even the darkest hair at home, easily!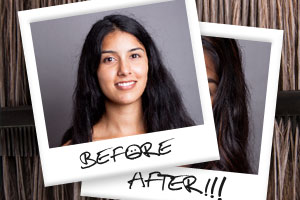 Jet-black hair is gorgeous on its own, but sometimes it's nice to change this up a bit. You may have thought your hair was too dark to get any noticeable lightening from at-home hair color, but it's not true! You can do it with these tips.
I've been a fan of threading though I've not actually had it done to myself. Why you ask? Because I barely have any eyebrow hair to begin with! Though , I have worked on many a lady who had her eyebrows waxed and golly talk about a wee mess to makeup over.
I have also worked on a lady who just left the threader and is now in my chair for makeup, and golly, how smooth the skin and clean the line of hair is!
So, this weekend I was accidentally at the mall, honestly, it was an accident except for the fact that I stumbled upon this threading station positioned in the middle of the mall aisleway and had both chairs filled with a line waiting.
True, I agree, that a partial partition to give some semblence of privacy to the person in the chair would be a great idea, but that's all talk at this point.
Here's the details: go to Tempe, to the Arizona Mills Mall, and just half way down the hallway after entering through the #3 doors you will find the kiosk with two chairs and two East Indian people threading brows and whatever else hairy area you may have.
To reach them and set up an appointment, reach them at eyebrowdesigner21 at yahoo dot com
or just go to the mall because by the looks of it, the scheduling is done on a first come first serve basis.
I did not have a chance to speak with them because they were busy and I was being bustled along in the crowd. I barely had a chance to grab a flyer!
Eyebrow shaping for men and women ( oh yeah men, you need this!) $10
Chin threading $6
Upper lip $6
Side burns $6, each side
Full face is $30.00
Those of you who get waxing will sigh and relax at the price because it's less than traditional waxing and you get better results.
Enjoy!
Thank you for visiting the blog and check back for promotions and beauty giveaways!