Hey ya Purty!
Lumene of Finland is a CVS staple and a great choice for getting department store quality skincare at drugstore prices!
I received a sample of
Lumene Time Freeze Anti-Age CC cream
. Video review of that below along with some details from the
Lumene
website.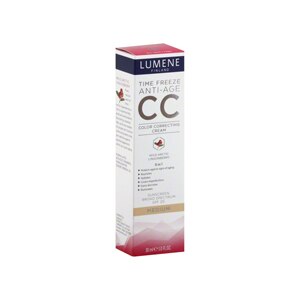 In my experience, I loved it. I wore it for about 8 hours and during that time it wore beautifully providing full coverage and great sun protection too. I started out with clean skin, applied a good splodge of the cc cream with a brush to my entire face.
About midway through the day I needed to freshen up and I added a little bit of powder over my morning application. It has next to no scent, is light on the skin, and faded gradually by the end of the day. Meaning there were no cracks or blotches. Lumene Time Freeze Anti-Age CC Cream in my opinion could be worn all day and freshened up by re-applying a little bit more cream.
$14.99 at Ulta
and CVS
I have tried both the CC Cream and the BB Cream from Lumene and love both, though if I were to go out and buy one today, I would get the CC Cream by Lumene because it gives more coverage and wears more like a foundation with hydration and sunscreen. Worth $15 in my opinion!
Now, some more from the Lumene website:
Representing the latest technology, this unique 6-in-1foundation is light and yet it provides good coverage. It spreads evenly, following all contours of your skin and smoothing out uneven skin color and redness. One product has several features, a handy solution for consumers who like a product that is easy, quick and comfortable to use.
The end result is a semi-matte, flawless and even-looking skin. Your skin will feel fresh and light, and you can trust that your makeup will stay on all day. Three shades: Light (for fair skin), Medium (for medium-fair skin) and Deep (for more tanned skin). 30 ml.
CC Cream's 6-in-1 properties:
Foundation – a fine but well covering formula. The shades are designed to neutralize the color of red areas.
Concealer
Primer
Illuminator
Long-lasting
SPF 20
P.S. This is what the BB cream packaging looks like. I think it's slight bigger than the CC Cream meaning you get a wee bit more product, BUT-it gives a more sheer tint than the CC.
Remember: you are beautiful! Thank you for visiting the blog and check back for promotions and beauty giveaways!