Under the Dome
much my Gorgeous?
Tonight the summer hit show Under the Dome is giving us another peek "under the dome" and I will be watching. I think the show is at a tipping point, either tonight is going to step up and over the edge of obscurity and fluff, or it's going to sink into a mire of half baked sci fi theory. Not a pretty place to be.
In my opinion, the character Dodee Weaver played by actress Jolene Purdy (her parent's must be Dolly Parton fans?) steals the show every scene she is in as the smarter than the DJ and sassy audio engineer at the local rock radio station.
Jolene Aiko Purdy is a movie and television actress based in the United States. She is half Japanese and half Caucasian. Purdy starred as Cherita Chen in the 2001 film Donnie Darko.
So if we were
Under the Dome
, what would our skin be like? It just rained there, so I'm wondering if it's super humid? No matter what the weather conditions, you can never go wrong with
Jurlique Calendula Cream
because it's a restoring protective moisturizer for sensitive skin. Meaning that anywhere on your face, hands or body, you can use the Jurlique (love their products!) cream to calm and soothe!
Calendula Cream
A rich moisturizing cream with potent Calendula extract and other precious plant oils to deeply hydrate and comfort irritated skin while protecting against environmental aggressors. Skin feels hydrated, smooth and comforted. Select the Luxury Size for $93 ($115 Value)!
The Benefits:
Provides intense hydration to help comfort irritated skin.
Helps calm skin after exposure to harsh elements.
Helps to clarify, soothe and soften skin.
Helps to provide protection against environmental aggressors.
Key Ingredients:
Witch Hazel and Spilanthes extracts have astringent qualities that help tone and soothe skin.
Calendula extract provides soothing properties and rebalances sensitivity on the skin.
Aloe Vera extract, Evening Primrose, Macadamia, Avocado and Safflower oils help provide hydration, softening and moisturizing properties.




@jojopurdy
Now here is a short interview with Jolene Purdy with some keen insight into her character and the show-enjoy!
Remember: you are beautiful! Thank you for visiting the blog and check back for promotions and beauty giveaways!
Stressed? Try one of these calming yoga poses in the comfort of your own living room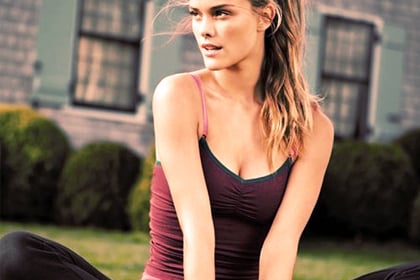 This is a TotalBeauty.com Fitness article
With a busy schedule that piles on the stress, fitting in a yoga class is more wishful thinking than reality, right? Well, here's some good news: You don't need a whole hour and a half yoga class to unwind. To help you de-stress on a more regular basis, we put together a series of simple yoga poses that you can do at home. So, focus on your breath, put on some relaxing music, and try these poses that'll detoxify all the crazy stuff going on in your life.