Let their glorious updos and glamorous makeup looks inspire you for your biggest beauty day ever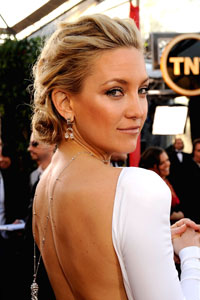 This is a TotalBeauty.com celebrity hairstyles article
Celebs sport bridal-looking gowns all the time on the red carpet, so their hair and makeup could totally work for your wedding look.

Fragance for you? Fragrance for your stocking stuffer? Fragrance as a holiday gift for the

office party?
Try the new duo of Adidas sporty scents for men and women!
I've tried both and they are a clean citrusy blend that wears well and dries down to notes that are smooth and appealing.
Each is affordable, makes a great gift, and can be purchased at the local Walmart, Target or drugstore near you.

If you feel nervous about giving fragrance as a gift, don't be! In my opinion, fragrance is a great gift any time of the year for any reason.
How do you know if a person is a fragrance junkie like me or just a special occassion wearer?
Well my answer to that is the fragrance junkie is always wearing something-whether it is a scented hand lotion, or a layering of scents from body wash, to lotion, to a finishing spritze of parfum.
The special occassion wearer simply dabs a bit on the wrist for the "special" occassion and giving that person a scented hand lotion may be better than a bottle of perfume.
Remember for your wedding, it's an amazing memory maker to pick out a specific bridal scent-something that will trigger the memories of the day with a whiff of the scent.
Enjoy some Adidas Moves Pulse today! It retails for about $19.
Remember: you are beautiful! Thank you for visiting the blog and check back for promotions and beauty giveaways!