These easy tips will have you feeling like an anti-aging warrior after 10 days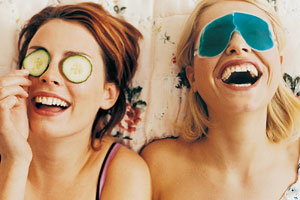 This is a TotalBeauty.com skin care advice article
Life coach, Meredith Haberfeld, shares healthy habits that you can do for 10 days that will help you feel and look more youthful.
Well, I have not tried it myself yet though I am open to experience it due to my high level of stress and love of all things spa. I'm just curious, how do they clean the mud between people?
Read below and if you have been here, please comment and let me and the rest of the readers know what the real experience is like. Enjoy!
p.s. remember today is the last day to subscribe on the blog for the giveaways!
Stress Stopper at Dr. Wilkinson's Hot Springs Resort
Calistoga, California – Dr. Wilkinson's Hot Spring's Resort announces the return of their famous fall Stress Stopper package – a soothing and affordable way to slow down and de-stress while steeping in naturally hot mineral water and mud.
The resort has offered the Stress Stopper Package during cool weather months as a guaranteed way to chase away the blues, warming body and spirit, for 25 years.
Taking care of oneself promotes good health and well being, according to Mark Wilkinson, co-owner with his sister Carolynne of Dr. Wilkinson's. "The last couple of years have been financially stressful for many people. Taking time out with our affordable Stress Stopper package will energize you and help you de-stress," he says.
The Stress Stopper Package includes an overnight stay, Sunday through Thursday, in a spacious double queen or king room. All rooms are non-smoking. Guests can unwind with their choice of three packages: The Mud Bath (mud bath, aromatic mineral whirlpool bath, steam room and blanket wrap) at $99 per person, plus applicable taxes: "The Works" (mud bath, aromatic mineral whirlpool bath, steam room, blanket wrap) with 30 minute massage at $139 per person; or "The Works" (mud bath, aromatic mineral whirlpool bath, steam room, blanket wrap) with 60 minute massage at $198 per person. The offer is valid through October 31. Prices are subject to change.
The Stress Stopper package also includes use of three thermal pools: an enormous 80 degree pool, a large 90 degree pool, and an 102 degree indoor pool, a gigantic "hot tub," perfect for a soak or swim the year round, adds even more value to a visit to Dr. Wilkinson's.
Calistoga's four block historic downtown, where Dr. Wilkinson's is conveniently located, offers an abundance of unique shopping and dining opportunities. Walk to restaurants and wine tasting bars, shops, galleries and bookstores during your fall getaway.
Entering its 59th year, Dr. Wilkinson's Hot Springs Resort is a wine country landmark, one of Calistoga's oldest spas, and the only local facility that still operates under founding family ownership. Today the resort's original neon sign, erected in 1952, still glows outside Dr. Wilkinson's Hot Springs Resort, an ongoing tribute to the "Dean of Calistoga's Spas."
The "mud bath movement", made famous by the late Dr. John Wilkinson more than one half century ago, has never been more popular than it is today.
To learn more about Dr. Wilkinson's visit the resort's website at drwilkinson.com
Remember: you are beautiful! Thank you for visiting the blog and check back for promotions and beauty giveaways!