Your grade school pigtails are about to get a big makeover. See the new braids that are trending now -- and learn how to do them at home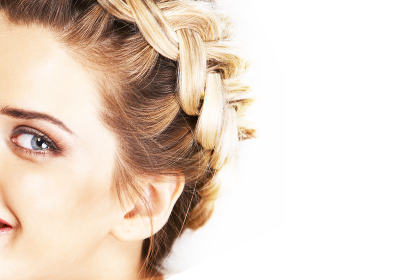 This is a TotalBeauty.com hairstyles article
We loved our schoolgirl pigtails in grade school, but aren't we too old and sophisticated for braided hairstyles now? Nonsense. Braids are making a huge comeback and have evolved to resemble waterfalls, fishtails, and even headbands. Learn how to wear this hot trend with the 9 best braiding video tutorials.
Hello Gorgeous!
Happy Friday the 13th!
I was born on the 13th-and that's a good thing!
Want to know what else is a good thing?
evo hair care from Australia!
Oh my samples are all gone and it's so good!
The shampoo and conditioner called 'ritual salvation' are light in lather and cleansing but full in conditioning and smooth healthy looking hair.
I also sampled the styling products:
haze-a powder for creating volumous texture
love perpetuar shine drops-high shine without greasy weigh down
easy tiger smoothing fluid-got my wavy hair pretty darn straight
liquid rollers-well, I would have prefered more defined curls but the waves sure liked it
Coachella Music Festival starts today also-there is so much to do right now it's crazy! I hope you have a save and fun weekend! Hopefully with some evo hair care! Find out where and how to get yours by visiting
http://www.evohair.com