See what beauty products one editor cannot leave the house without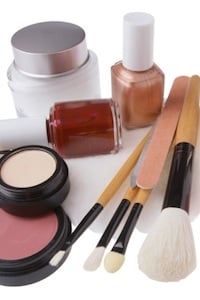 This is a TotalBeauty.com beauty products article
I am a certifiable product junkie, but since I can't schlep my closet full of beauty products around with me, I'm always sure to have the bare minimum at hand in case I need a fix. Here's what's always there for me in my case of need ...
Hello Gorgeous! Give a big shout out and congratulations to the new 2011 Miss Teen USA Danielle Doty of Texas.
She won the title at the Atlantis Resort in Nassau Bahamas-one of 51 contestants.
I say congratulations to you Miss Danielle Doty!
Enjoy the amazing year ahead of you!
Now, the Miss Teen USA website says that RAIN Cosmetics is a sponsor? Though I find it odd that for as long as I've been doing makeup, I have never heard of the brand? Let alone got my fingers and brushes in it to experience the texture, spreadability and pigment load?
If you have worked with RAIN, would you comment and let me know what you think!
Now, this beautiful young lady is the 2011 Miss Teen USA first runner up from North Dakota Audra Mari.
Miss Audra, let me be the first to remind you that first runner up is nothing to sneeze at!
Do you know what happened to the last Miss Teen USA first runner up? She is now the current reigning 2011 Miss USA! None other than Alyssa Campanella.
Dreams come true ladies!
I didn't see the pageant on tv, though YouTube is full of clips from the event.
Catch some if you can-and for all you beautiful young girls out there, wondering if you could do a pageant? I say yes you can!
I would like to say a special congratulations to my local 2011 Miss Teen USA pageant contestant! Representing the great state of Arizona from Paradise Valley is Molly Argue.
She's a real cutie and I'm proud to have her representing the young ladies of Arizona.
Keep up the great work and I look forward to watching your star shine!
Remember: you are beautiful! Thank you for visiting the blog and check back for promotions and beauty giveaways!