Gossip Girl star Leighton Meester just got bangs -- would you?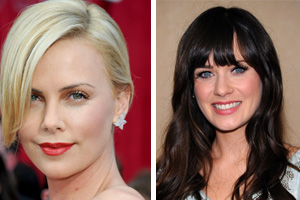 This is a TotalBeauty.com hairstyles by face shape article
Bangs are the newest hair accessory, but not everyone can pull them off. See which type of bangs flatters your face shape and get celebrity inspiration for your next daring cut.
Hello Gorgeous!
The summer is officially half over! I'm on my last vacation before getting back to the school year for Mancub and studio for work.
Now, what you see on the left is a wee sampling of some goodies from Sheer Cover.
What I enjoy most about Sheer Cover is that the finish is more matte on my skin than other mineral foundations.
I have two colors in foundations; Nude is the match to my skin tone and Bisque is the slightly darker tone that I use to contour with-or maybe if I get some tan at the river today I'll need it?
The blushes are a soft, silky texture, blend smoothly and come in a duo of pink/bronzer looks.
The biggest goodie is the small satin black drawstring bag that is filled with a mini kabuki brush and a two compartment container. The top half has two tones of concealer and the bottom is a sifter for putting your Sheer Cover mineral foundation in.
Perfect for travel, your purse, going from the gym to the office-or putting in your school locker!
I'm enjoying my Sheer Cover and you can learn more by catching it on QVC or by visiting the website at
http://www.sheercover.com
Remember-there is a 60 day money back guarantee-so if you try it and aren't thrilled-it's possible to return for a refund. Enjoy!
Remember: you are beautiful! Thank you for visiting the blog and check back for promotions and beauty giveaways!