Frizzy hair, puffy skin, and redness -- oh my! See how to fix these summer bummers fast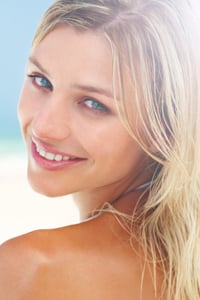 This is a TotalBeauty.com sun care article
We're enjoying the beach weekends and barbeques, but with the good comes the bad -- and sadly, summer's heat wreaks havoc on our skin and hair. Want to see our best tips for fighting these common summer beauty bummers? Check 'em out here.
Hey Gorgeous!
I'm thinking about doing a 'how to makeup like Mila' video-what do you think?
Cast your votes in the comments section:
Yes, you want a Mila Kunis how to makeup video-or No.
Now, here is a bit of detail that was shared with me about luxury facials that may (or may not) be of interest to you.
Enjoy!
The beauty sphere has been a-buzz with news of Mila's (fabulous) $7,000 facial. True, the price is extreme, however there are other less pricey procedures out there that still put a dent in a non-A-lister's wallet.
Cucumbers, extractions and precious stone exfoliants aside, what other kinds of expensive facials are out there? Santa Moncia Plastic Surgeon and Clinical Assistant Professor of Surgery at USC-Keck School of Medicine, Dr. Reza Nabavian highlights the different kinds of facials that his A-list and wealthy Beverly Hills clients seek out.
IPL Photofacial: Approximately $600, should be done 3-6 times per year for maximum results
Intense Pulse Light is used in photofacial treatment to penetrate the skin on the deepest levels causing the body to produce new collagen and connective tissue, thus creating healtier and smoother skin. "IPL has different effects," says Dr. Nabavian. "It can help with general skin improvement, tone and pore size. For folks with sun spots, IPL is beneficial for more acute change." Dr. Nabaivian is quick to point out that IPL is a minimally invasive procedure, so you get incremental change over time. "For the busy professional, that is a plus."
Chemical Peel: Approximately $100-$800
"Chemical peels use a chemical solution to improve and smooth the texture of the facial skin by removing its damaged outer layers," says Dr. Nabavian. It is helpful for those individuals with facial blemishes, wrinkles and uneven skin pigmentation. Chemical peel may also remove pre-cancerous skin growths, soften acne facial scars and even control acne.
Thermage: Approximately $1,000 - $5,000
"Thermage may be valuable to prevent or treat mildly loose skin." Thermage is a clinically proven way to tighten and contour skin, with improvements in tone, contour, and texture occurring naturally through the stimulation of your own collagen. Thermage is completely non-invasive—no surgery, no injections. A single treatment tightens your existing collagen and stimulates new collagen growth. Improvements are both immediately visible and continue up to six months. The results can last for years. Thermage's Capacitive Radiofrequency (CRF) technology safely heats your skin's underlayer and the web of collagen in the inner layer, causing an immediate tightening as well as improved tone and texture.
http://www.nabavian.com/procedures.htm
http://www.facebook.com/DrRezaNabavian
For more information on these procedures or to contact Dr. Reza Nabavian regarding this or any other stories, please contact erin@brandallurepr.com; 805.304.4968
Remember: you are beautiful! Thank you for visiting the blog and check back for promotions and beauty giveaways!