You can't turn back the clock, but you can keep your hair looking young and healthy with these insider tips
This is a TotalBeauty.com hair article
If you're lucky, you may not be finding any gray stands just yet. But your hair might be showing other signs of aging, like loss in volume, less shine, and an increase in dryness and breakage. Stylists agree that it's important to understand why these changes are happening to your hair over time (genetics, biological changes, and styling are key factors) so you can find a solution. Check out these simple hair care tips that anyone can follow to slow down the signs of aging instantly.
Hello Gorgeous!
The
New Year 2013
is starting off with a bang!
Now for all my busy working ladies and moms who like the look of a professional set of salon nails but don't have the time and don't like the harsh chemicals-you need to check out
Custom Nail Solutions!
The founder, a brilliant and beautiful Katie Sexton has the hottest nail trends for you-read below!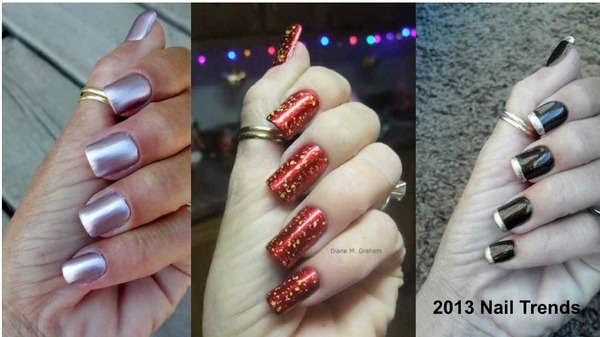 New Year, New Nails!

***

Nail Expert Katie Saxton Has The Scoop On Fresh, Fun, And Trendy New Nail Styles for 2013

The year 2013 is here, and it's an exciting time full of fresh fashions, healthy resolutions, and…fabulous new ways to style your nails! Many nail trends of 2012 will fade and soon disappear from the hands of lovely ladies everywhere, such as our once beloved crackle polishes. This may make you and other fashionistas wonder…what will be the hottest nail trends of 2013??

There is no need to fret over how you will style your nails for the New Year! Nail expert and Custom Nail Solutions President Katie Saxton has the scoop on an array of fun and fabulous new nail styles that will soon be seen on all over the streets and runways.

According to Katie, the below styles will keep your nails in tip-top shape and ensure that they are ready to steal the spotlight wherever you go!

1. Two Tone French Manicure: This nail style exudes sophistication and classiness. To do this design, paint your nails any color and let dry, then add a French tip with a contrasting polish.

2. Sideways French Mani: Painting your nails with a coat of polish and adding a different-colored vertical stripe on either the right or left side of each nail will be huge in 2013. This fashionable and unique nail style will make you the talk of the town in all occasions!

3. One-Of-A-Kind French Tips: Changing out the traditional white tips for animal print accents, colored tips, funky wrapped tips, polka-dot tips, bejeweled tips, etc. will be huge in the year 2013. This is a fantastic way to express yourself and show off your unique personality!

4. Colored Metallic Nails: Jazzing up your nails with metallic polishes in colors like blue, red, and purple will be huge in the year 2013. This nail style is sassy and beautiful!

5. Vibrant Orange: Painting your nails in shades of orange like tangerine and orange-red will be a major trend of the year 2013. Wear polish in vibrant orange hues to ensure that your nails turn heads wherever you go!

6. Holographic Nails: Shimmery polishes with a 3D effect will be the go-to nail design in 2013. This gorgeous look is perfect for a night out at your fave downtown hotspot!

7. Real Gold Top Coats: Adding a real gold-infused topcoat to a colorful manicure will ensure that your nails are ready for the paparazzi wherever you go! Although more expensive than a typical clear topcoat, the gold flake topcoat is so glitzy and glamorous that it is well worth it!

8. Half Moon Manicure: This classy manicure is perfect for a high fashion event or a fancy cocktail party! To do this style, paint your nails a certain color, let dry, and then cover the bottom halves of each nail with a hole reinforcer or a half-circle of tape, making certain that a semi-circle of paper/tape protrudes from the bottom of each nail. Add a coat of a different-colored polish over the paper/tape covering and the rest of the nail, and then take off the paper/tape covering and let dry. Voilà! You have a beautiful half moon mani to show off to the world!

9. Edgy Accents: Manicures featuring "bloody" tips, jagged tips, suspicious shadowy tips, and mysterious dark and dripping tips will be huge in the year 2013. Adding a chancy and dark theme to your nails shows your daring and adventurous side!

10. Pale Nails: Adding a coat of pale pink or neutral polish will be a popular look in the year 2013. It is a subtle and simple way to keep your nails primped and pretty!

In addition to these top nail trends of the upcoming year, below is also info on the most innovative and talked-about nail product of the New Year: Custom Nail Solutions. It will keep your nails in tip-top shape for the year 2013 and beyond!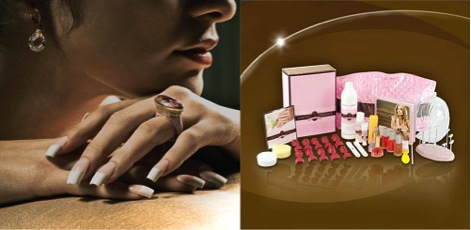 The Custom Nail Solutions Nail System is a revolutionary artificial nail product that offers custom nails that uniquely fit only your nail beds, are reusable and chemical-free. The nails are thinner, stronger, and virtually indestructible, and they provide a perfect canvas for the above nail trends. You can have lovely, natural looking salon-style nails on your own schedule and in the comfort of your own home.
Remember: you are beautiful! Thank you for visiting the blog and check back for promotions and beauty giveaways!