Hello Gorgeous!
Spring Break
full of cold beach weather? Don't worry-get your tan on before you to with GLOW tanning towelettes which sell for about $5.99 and can be found at Walgreens or online at www.drugstore.com
To apply is really simple, just pull one from the package and rub on in small circles. BE CAREFUL to watch and note where you apply because it goes on colorless and you won't find a mistake until it dries in 3-4 hours. These are great for a quick fix, and easy packing, and the price is good too!
I used both colors and the darkest package ( as seen on the left) gave me the most 'tan' looking effect.
This is a great product for those of you who want a light hint of tan instead of a bold bronze look.
For Face & Body
Sunless

Streak-Free

Alcohol-Free

Oil-Free

pH Balanced

Not Tested on Animals
Glow Head to Toe self-tanning towelettes are formulated to give you a uniform, streak-free application. Our product will give you a natural glow within a few hours.
Made in China
Warnings
---
For external use only. Avoid contact with eyes. Irritating to eyes. Keep out of reach of children. Not to be used on children. If irritation occurs, discontinue use immediately. Dispose towelettes in trash receptacle (do not flush). Product does not contain sunscreen and does not protect against sunburn. Repeated exposure of unprotected skin while tanning mat cause skin aging, skin cancer and other harmful effects even if you do not burn.
Now a word from our sponsor:
Customized fat loss for a beach body
Click Here!
Remember: you are beautiful! Thank you for visiting the blog and check back for promotions and beauty giveaways!
From spot-on color descriptors to clever double entendres, we rounded up the best shade names of all time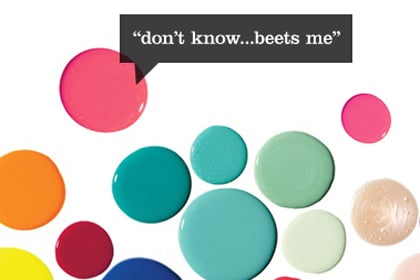 This is a TotalBeauty.com nails article
Sure, the color of nail polish in the glass bottle is a big deal, but the next thing you do is flip the bottle over to read the name written on the bottom. If that name makes you roll you eyes, it's going back on the shelf. If it makes you laugh out loud, there's a good chance it's getting painted on your fingers and toes. We compiled a list of the 25 best nail polish names that are clever, funny, and just simply spot-on. Click ahead to see if your favorites made the list.