Hello Gorgeous!
Well, it's the beginning of our spring break vacation to the beautiful beaches of Southern California.
I am using my
Lumene BB Cream in Light
for going to the beach, then touching up when we go out to eat and then a wee dab more to layer protection as we bike ride on the strand before winding up somewhere for dinner.
At that point, I can put a bit of powder and add some eyeliner with bronzer to take my daytime beach protection and natural makeup look to more of a dressier going out look. The
Lumene BB creme
wears well under sweat and sun, is a bit streaky when I first apply and needs a bit of blending and massaging into the skin. Though once it's on, it's on! It's easy to buy Lumene products, just visit your local CVS!
Discover the Power of Arctic Cloudberry. Lumene Vitamin C+ Illuminating Anti-Age BB Cream is a multi-benefit beauty product that works like skincare, but acts like lightweight makeup. It not only delivers powerful sun protection, but also brightens, hydrates, evens skin tone and covers blemishes, all while improving elasticity for a more youthful appearance. Lumene Anti-Age BB Cream: 6 daily benefits, 1 product for perfect skin.

Suitable for all ages and skin types. The product is free from parabens. Two shades: 01 Light & 02 Medium. 50 ml e 1.7. FL.OZ.


Ideal for women who are in the middle of the "rush years". They appreciate convenience, quick to use solutions. For those who want one product to solve all skin care problems; moisturize, sun protection, cover imperfections and at the same time act as a nude, natural make up.
Get the most out of your product
Apply the Illuminating Anti-Age BB-cream to cleansed skin. Use as a day cream, under foundation or alone.
Six Daily Benefits:
- Spf 20
- Delays the signs of aging
- Brightens
- Hydrates
- Covers imperfections
- Evens skin tone


And now...a word from our sponsors:

Wine making at home

: for fun and pleasure with some business on the side!

Click Here!

Remember: you are beautiful! Thank you for visiting the blog and check back for promotions and beauty giveaways!
From spot-on color descriptors to clever double entendres, we rounded up the best shade names of all time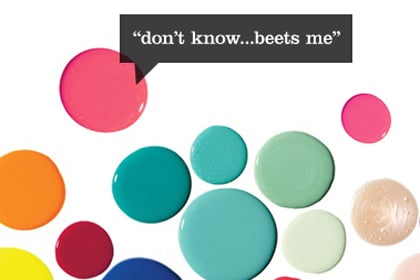 This is a TotalBeauty.com nails article
Sure, the color of nail polish in the glass bottle is a big deal, but the next thing you do is flip the bottle over to read the name written on the bottom. If that name makes you roll you eyes, it's going back on the shelf. If it makes you laugh out loud, there's a good chance it's getting painted on your fingers and toes. We compiled a list of the 25 best nail polish names that are clever, funny, and just simply spot-on. Click ahead to see if your favorites made the list.