Hello Gorgeous! Now is the time to start training and shaping your eyebrows to be fuss free during spring break travel or for a perfect prom night look. Enjoy this short video on the Sally Hansen The Now Brow Perfect Arch Brow Kit.
Refine, Define, Arch & Accent!
Easy, tweeze-free shaping.
Includes one brow scissor & one brow shaper.
Complete Your Tool Kit: Look for our selection of tweezers for every brow need.
Scissors Made in Pakistan
Shaper Made in China
The perfect brow starts above the inner corner of your eye and extends slightly past the outer corner. Brush brows to desired shape. Trim any long stray hairs. use Brow Shaper to shape brows. Careful! The blade is very sharp.
Click Here!
From spot-on color descriptors to clever double entendres, we rounded up the best shade names of all time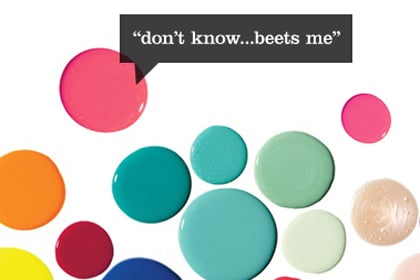 This is a TotalBeauty.com nails article
Sure, the color of nail polish in the glass bottle is a big deal, but the next thing you do is flip the bottle over to read the name written on the bottom. If that name makes you roll you eyes, it's going back on the shelf. If it makes you laugh out loud, there's a good chance it's getting painted on your fingers and toes. We compiled a list of the 25 best nail polish names that are clever, funny, and just simply spot-on. Click ahead to see if your favorites made the list.
Remember: you are beautiful! Thank you for visiting the blog and check back for promotions and beauty giveaways!