Hey Purty Gorgeous!
I have got to share some more of the good stuff I was introduced to at Generation Beauty by Ipsy this weekend at L.A. Live in Los Angeles.

Make Up For Ever ( love the products!) has a brand new mascara coming out in July that I got a sample of this weekend, called Smoky Extravaganza.

I love the brush! The color is pretty good too!

It's lashes in 4D volume, length, curl and precision. Precisioin 4D technology, micro-defining complex for far away impact and up close precision.

2 brushes in 1 with a precision tip separates lashes, rounded base for extravagant volume. Available exclusively at Sephora, Sephora.com, and Make Up For Ever boutiques in July 2013 for $24.

Remember: you are beautiful! Thank you for visiting the blog and check back for promotions and beauty giveaways!
We hit the streets of LA and asked local fashionistas about the hottest spring trends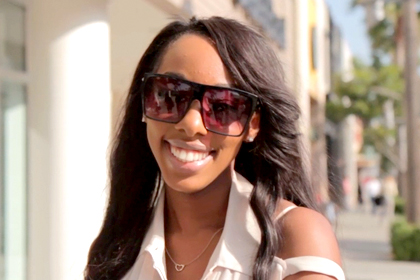 This is a TotalBeauty.com video article
We get a lot of style inspiration from the runways of fashion week and celebrities walking on the red carpet. But at the end of the day, we look to real women who are executing the latest fashion trends in an affordable, wearable way. That's why hit the trendy streets of Los Angeles and talked to LA's real-life fashionistas to get the 411 on all the spring fashion and beauty trends. Keep clicking to get the scoop on what's hot this season.