Hello Gorgeous,
The beautiful and my favorite, modest, Miss Taylor Swift will be in Canada this weekend on a pit stop from her RED tour (sure wish I was going!) to present at the Much Music Video Awards.
I'm going to tune in online, how about you? Now she looks so gorgeous and I'm curious if she is wearing some Lady Emily natural cosmetics, like their Love Glow powder?
Taylor Swift will appear on the 2013
MUCH MUSIC VIDEO AWARDS
airing live on Sunday, June 16 at 9E/6P on MuchMusic and Fuse. Currently on her sold-out Red Tour, this will mark Swift's first appearance on the MMVAs, also known as the biggest block party in the world!
Did you notice the healthy glow on the faces of those who are in love? Our Love Glow™ Face Powder makes you look so angelic, healthy, and pretty!
It's a luminescent complexion enhancing powder that looks great on cheeks, eyes, or anywhere you want for that dewy, radiant, romantic glow!
A bit about Lady Emily natural cosmetics and couture:
Lady Emily started 12 years ago when Founder / CEO, Melisa Shaw Humphrey's daughter "Emily" was born. Her baby had sensitive skin so Melisa started to make her own handpoured Olive Oil Soap -- one of the company's most popular items still today.
It later developed into a direct selling cosmetics company with over 800 independent sales consultants selling her products. Today, Lady Emily has evolved into its own successful online boutique and continues to reinvent itself to keep up with current trends.
"I'm a daydreaming type of gal. It's as simple as that. I can't think of a time that I wasn't this way. I love to dream of fairy tales, far away places, and magical endings. So...

...
......
***
Now, a wee bit more in Taylor Swift news! She has a new fragrance coming out and I've got a sample on the way! Here's a hint on what the scent is like and as I soon as I get my sample I will post a video review!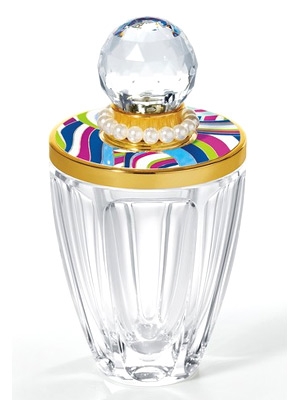 From
Fragrantica
website;
Young American singer
Taylor
Swift unveiled her first fragrance, Wonderstruck, in 2011. Wonderstruck Enchanted followed as its flanker, launched on the market in Fall 2012.
Taylor
by
Taylor
Swift is a new fragrance, coming out in June 2013. Unlike the first two, which were inspired by fairy tales,
Taylor
fragrance is more personal to the singer because it reflects her own style.
Taylor
is a sweet, floral-fruity fragrance with a woody base. It opens with alluring aromas of lychee, tangerine and magnolia petals, with peony, hydrangea and vanilla orchid in the heart and a base made of sandalwood, apricot nectar, cashmere musk and soft woods.
The youthful bottle design tries to combine modern and retro style with pearl details, a crystal stopper and bold prints. The fragrance is available as 50 and 100 ml Eau de Parfum.
Remember: you are beautiful! Thank you for visiting the blog and check back for promotions and beauty giveaways!
There's no need to dread the 3.4oz liquid rule with these carry-on gems
This is a TotalBeauty.com
makeup
article
Regardless of what class you're flying, check-in at the airport comes with its fair share of nuisances. There's rushing to cram everything into a plastic container and walking through the security line barefoot. But nothing compares to having to toss out your favorite perfume because it's over the 3.4 liquid limit. Nothing. To help you avoid holding up the line or tossing anything valuable, we ranked our top travel-friendly sized products so you can sail through security, worry free. Click ahead to see the top picks!