See which formula is ideal for your unique skin type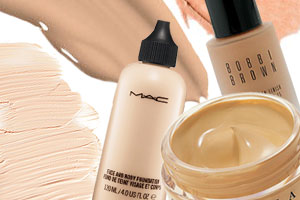 This is a TotalBeauty.com makeup article
Do you know which foundation you should be wearing? Take this quiz and see which formula is right for your skin type.

Hello friends and fam! Welcome to my first ever contest where you get to vote and decide on which "look" I'm going to wear to a benefit concert. I am using two different product lines and each is really lovely! The first in this post is product featured from Makeup Designory, which I think is pronounced 'dee sigh nor ee' and not dez sig nor ee, which is how I said it in the video. Sorry about that!
Now what you are looking at here on the left is the lovely makeup bag that came filled with all sorts of goodies!
Specifically:
one super soft black eyeliner
one quad palette of shimmer/matte shadows ( and boy do these have a high pigment load!)
The quad is magnetic and the colors can be changed out as you like! Or custom mix your faves!
a sheer pink cheek color called rose petal
and a sheer lipgloss called java

Now in the photo to the left I have on a quick day look and I used all the products you see in the photos. Alas! Knowing that I have to travel this weekend to attend the concert I started to create a look to go with this lovely green shirt that I just got! So this is the beauty of makeup: you can make it what you want and change it whenever you want!
So please watch the videos and comment on which is the better look to wear to the concert.
Now, about the concert: http://www.oneloveforchi.com money is being raised for Chi Cheng from The Deftones. After an accident he has been in a coma like state and his insurance dropped him and his whole family. So now is the time to come together and share some love and some money too. Any and every bit helps so visit the website, donate, come out to the free concert and if you like, vote on which look I should wear to it! Enjoy!



Remember: you are beautiful! Thank you for visiting the blog and check back for promotions and beauty giveaways!