Sunday sweet Sunday Gorgeous!
Where did the month go? I'm shocked at how fast the days are going!
So we are just over a week from the 2014 Oscars? Who's your favorite to win best picture?
In the photo, the fourth and pinky finger are wearing a red carpet worthy color from Wet n Wild Wild Shine collection called jezebel. The index and middle finger are wearing the RCM at home gel polish pro color Red Carpet. How fitting!
So far, as manicures go: the RCM red carpet has held up for well over a week and in my experience, that's amazing. No chips, no wear, just all shine.
The jezebel Wet n Wild Wild Shine wore well, has a deep red tone with sparkle. It's perfect for prom or dressing up and best of all, it's just under a dollar! $.93 to be exact! For that price, you can get several colors to create amazing looks for prom, spring break, Oscar parties and more!
Enjoy some rest today!
Remember: you are beautiful! Thank you for visiting the blog and check back for promotions and beauty giveaways!
Stressed? Try one of these calming yoga poses in the comfort of your own living room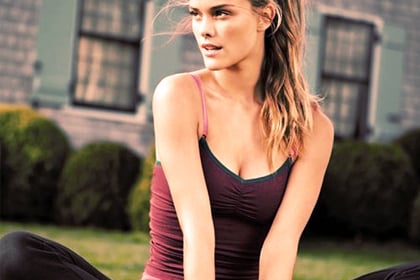 This is a TotalBeauty.com Fitness article
With a busy schedule that piles on the stress, fitting in a yoga class is more wishful thinking than reality, right? Well, here's some good news: You don't need a whole hour and a half yoga class to unwind. To help you de-stress on a more regular basis, we put together a series of simple yoga poses that you can do at home. So, focus on your breath, put on some relaxing music, and try these poses that'll detoxify all the crazy stuff going on in your life.