Total Beauty readers spill their biggest hair woes -- these expert tricks fix them all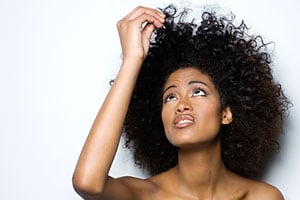 This is a TotalBeauty.com hair care article
From frizz to flatness, celeb hairstylist Kevin Mancuso helps solve all of your hair issues.
Hello gorgeous! Are you getting ready for your bridal makeup and a wedding day beauty to remember? Or are you putting makeup on for a resume ready face that gets hired? How about are you a model getting your makeup on for your first photoshoot to make a comp card with?


All is good if you are I share these questions with you because I just tested the new Dermablend Smooth Indulgence line of foundation, concealer and long wear makeup remover.
Remember-most products work their best when in a system from their own line. I know some of you may like to mix and match your makeup brands, but in this case the Dermablend Smooth Indulgence system works syngergistically together!
Start with a clean face that is moisturized and ready for makeup. Get two synthetic brushes in different sizes: large and small! Use your small size to work the concealer with and your large brush to blend the large areas of the face.

The Dermablend foundation actually comes with a sponge inside-which is a nice addition though I prefer a brush because it's cleaner and saves product in the long run.
Who needs the Smooth Indulgence line from Dermablend? Anyone with minor to moderate skin imperfections or who is experiencing symptoms of rosacea, redness, uneven skin tone, and minor acne scars. Also the Smooth Indulgence has spf 20 sunscreen protection, a natural looking coverage, is long-lasting in wear and provides an all day hydration. The box does say it's suitable for sensitive skin-which I don't really have but it feels so good on that I would believe that it

could be a product for those with sensitivities.
Now, in the phot oto the left I have applied concealer all over my eyes, and over my eyebrows to test the 'bleached' look that is current Fall 2010 beauty trend but that I can't fathom doing! I am not bleaching my eyebrows!
In the photo you can see that I am applying a wee squirt of foundation to my brush and about to blend all over and down my neck. I do like the product but I noticed during application that it sets up fast so you either need to blend fast or apply to small areas of the face at a time! A little bit of product went a long way and I did two think coats to finish

my face and blend into the concealer. In the photo I did not set the makeup with my favorite powder, the Makeup Forever HD translucent because I wanted you to see the full effect of the Dermablend Smooth Indulgence product.
It photographs nice I think! Also, look at the coverage! You can't see one freckle! It did last all day, through alot of videos and photos, and wore very well into the evening. I did need to use the long wear makeup remover because my natural organic stuff couldn't budge it! So I washed first with my normal wash and when it would move I tried the long wear remover on a scrublet and it began to melt away! A note that I love about the product is that they are using a natural sunscreen instead of a chemical based one-this product is loaded with Titanium dioxide 6.1%!

Now here you see me in the bridal veil. Why?
Because Sunday September 26th is the Arizona Bridal Affair and I will be there to emcee the show, and also have a booth full of goodies for you! Come pick my makeup brain, subscribe to the newsletter for beauty product giveaways and book your workshop or makeup lesson maybe even your wedding day! Party starts at 9 for V.I.B.'s and 10 for everyone else. There is a Groom Room full of man party stuff! All under one roof at the Scottsdale Chaparral Suites Hotel. See you there! www.arizonabridalaffair.com
Remember: you are beautiful! Thank you for visiting the blog and check back for promotions and beauty giveaways!