See why having great brows is the best beauty-enhancing tip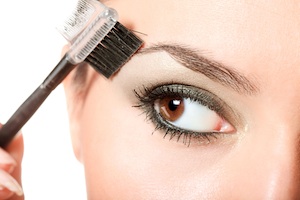 This is a TotalBeauty.com makeup tips article
If you've ever seen before and after brow photos, you know what a difference well-defined ones make. Here are some tips to help you get your best brows yet.

Oh yeah! That's me wearing the Winkee! This is a a lovely piece of wardrobe that you must

get! Why? Because 99% of the clothes made today are super low cut. I love a turtleneck and in fact own several, but I can't wear them in the Arizona summer! Or spring, or Fall for that fact I have to wait for the January week of winter here in Arizona.
So the Winkee is my new friend because it's super small but covers a large area and is easy to attach to your undergarment and get full coverage in what is normally a wee tank top! This scoop neck tank
is low, but now with the Winkee! Normally I have to

pull my tank up but not anymore!
Now in my button up shirt, again, the Winkee gives coverage and modesty without a layer of clothing to add another reason to sweat in the Arizona heat. There are so many colors and choices I know you will be happy with it.
Now for some reason, if you do choose to let it all hang out that's okay too because the Winkee is so small and easy to use that you could have it on at work, then leave for your next adventure and remove the winkee and put it in your wallet. Yes, wallet! It's that small!
Find more out at www.thewinkee.com and if you would like to win one for yourself, then come by the Arizona Bridal Affair Makeup University booth and sign up for the new hub blog newsletter at http://cherelynn.com Don't live in the Scottsdale area? That's okay! All subscribers to the new blog newsletter on Sunday September 26 will be entered into the beauty bonanza giveaway!
Remember: you are beautiful! Thank you for visiting the blog and check back for promotions and beauty giveaways!