Make your hair look like a hairstylist by did it by picking up these tools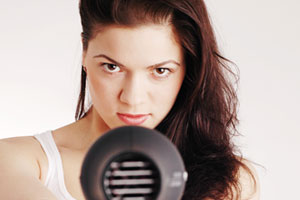 This is a TotalBeauty.com hair care article
Pro stylists are very particular about which blow dryers, brushes, flat irons, etc. they use. Check out this roundup of the hairstyling tools they recommend, so that you can get your best hair -- ever.
Happy Labor Day to you! I made this earlier in the week and posted for today because right now, I'm guessing me and my Mancub are out at the waterpark workin' on a sunburn! Somehow, even though we are slathered in sunscreen, all the waterplay and running amok wears through the protection! It's our last trip for the season so we are planning to party hard! Slurpees all around!
Now below is a fun and easy Rosie the Riveter look for Labor Day. Enjoy!

First I put my hair in hot rollers to get some volume going and yes, it's already been sprayed with heat protectant/conditioning setting spray
Skin wise: I've got serum, sunscreen loaded day moisturizer and eyecreme on
What you see in that tub are all the products that I am using to get the look ready and a full list of what's in there is below the video!
Now in this photo I have taken the hot rollers out

and I just fingered combed them loose and hosed them down with a light coat of L'Oreal Elnet. Oh yeah baby, that gold can from the Walmarts is worth every single penny of it's $14!
I am also using the yellow and green concealers plus foundation sfrom Koh Gen Do liquid minerals makeup line.
It gives a good amount of coverage and seems to be wearing well under the extreme Arizona heat!
Next up in the process is to demonstrate the Fall 2010 beauty trend of extreme winged eyeliner.
Please notice the large flat brush that I am using because that is the secret to creating this look easily. The brush should be synthetic so it can get wet and about the width of your index finger, say 1/4 inch? The quad is a Dior quad and it's the medium blue with a purple base that I am using with a wet brush.
The stroke of the eyeliner should be from one pinky width past the end of your eyelashes and be

drawn from the outside of the eye in towards the nose. It's easy, just practice! Using the larger flat brush draws a thicker smoother line versus using a pencil or wee small eyeliner brush.
Next I add eyebrows! Drawn thin for the Rosie the Riveter time period in which the makeup look is designed after.
Remember when doing brows: draw from the center of the arch to the end of the brow, then the nose to the arch-easy!

While the eyeliner dries and my brows set I am applying a light coat of sheer pink to the round apple portion of my cheek. Simply load your brush, press into the skin and then work in small circles towards the ear.
Reapply if you want more color.
Lips should be sheer with this bold of an eyeliner look. I stain my lips first because personally I can't get enough of stains because they are so versatile, photograph so well and wear a really long time!
I did not line my lips for this with nude liner per my usual style because I wanted a really fresh mouth that could sip, eat, and carry on without having to be concerned about a touch up.
After the stain dried a moment I applied a sheer nude toned lip butter.
If you are wearing this look in the heat, eating and drinking: the last thing you want to worry about is if your lipstick is gone and your liner is there!
Okay, as my lips are done and I'm about to wrap

up my Rosie the Riveter Labor Day look I quickly pop on a pair of Ardell Demi Wispy lashes. It's so simple! The more you practice the better you get and the more you will get to wear this complimentary look!
I always finish with mascara to create a stronger bond between my lashes and the set of false lashes.
Remember when applying false eyelashes: measure them first in case they are too long for your eyelid length and then simply snip off the inner corner if they are too long.

I prefer the Ardell glue that is white and in a tube versus the clear vial of glue-word to note: that clear vial of glue stings like crazy! While that glue is setting up and your lashes are drying finish your face with a nice buffing of translucent powder or hopefully you have some of my new most favorite product the Makeup Forever brand of HD Translucent powder.
Thanks for visiting, enjoy the how to video and share your comments! I love hearing from you!

Product list:
Koh Gen Do yellow & green concealer, 023 foundation, Urban Cowgirl eyebling in slate, Dior shadow quad 170, Makeup Designory Rose Petal blush, Bloom lipstain in Cinnamon, Bloom lip butter in heart of glass, Makeup Forever HD translucent powder.
GUYS! If you are watching or girls if you have a guy who needs some skincare-comment to win it! Subscribe to the Makeup University Youtube channel and win a set of Hey Dude! skincare!
Contest is open to the continental United States, one winner drawn at random on September 10th and notified by email! Go comment and go win! www.youtube.com/makeupuniversity
Remember: you are beautiful! Thank you for visiting the blog and check back for promotions and beauty giveaways!