Learn the importance and the how-tos of your anti-aging routine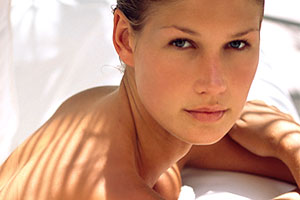 This is a TotalBeauty.com body article
This guide includes everything from the best anti-aging body products to post summer skin repair to secrets to a younger looking body.

Hello! The fast is going really good and there is still time to get your prayer requests in! I'm busy

with so many amazing products to test! This line is featured in Barney's New York and Beverly Hills or you can get it online at their website www.kohgendocosmetics.com
I'm testing one side of my face, the left as you are looking at the photo, with just the foundation.
On the right side of my face as you look at the photo is the yellow primer and green primer.

The yellow will help under eye circles and the green is to help tone down redness while evening out skin tone.
What I find most interesting about the green primer is that it's very similiar to a favorite product of mine from Lorac but the Koh Gen Do has more spreadability and blends a bit easier.
That's one challenge with the Lorac product is that though it's amazing coverage you have to

work quick before it dries a chalky streak on your face!
I use a large foundation brush, but if you prefer a sponge which in my camp soaks up product and wastes while harboring bacteria-use a sponge. If you prefer to use clean fingers-well then do that!
I have several synthetic brushes in a variety of sizes to apply foundations and concealers as well as primers.
You really want a clean brush/finger/sponger per product! I am blending the yellow primer under my eye and the green primer all over the nose/cheek/chin/jaw area.
After it sets a moment, which really was about a minute til it was tacky dry on my face-I choose a foundation shade and blend it over the 2 primers.
This may seem like a lot of work but in reality takes a little bit of time for a big payoff. If you don't want to do this for everyday, definately keep the primer options on hand in your beauty drawer for photos

or any important functions!
I don't think my lighting is the best here, would have been better to climb up the extremely hot attic filled with icky spider webs and who knows what to get the T stand lights and have a direct beam onto my face to see a true reading of the product finishes. I apologize for my lazy self and lack of adventure to battle the attic for this post.
Okay, I've selected a Koh Gen Do liquid mineral foundation and applied a thin coat with the foundation brush.

You can compare the two sides of my face: the photo where one tube is shown only has that product on the face. On my right side where I am holding the three tubes is where I have blended yellow and green primers as well as the foundation.
After all was said and done, I set both sides with my favorite powder from Makeup Forever and went to the grocery store to see if anyone noticed...or would say anything. They did not and it doesn't matter because either way I like the finishes but prefer the side with the primers on.

You be the judge! Congrats to my beauty product giveaway winners-prizes are going in the mail this week!
Remember: you are beautiful! Thank you for visiting the blog and check back for promotions and beauty giveaways!
p.s. Remember to tune into Oprah today for some Justin Bieber and America's Most Talented Kids...wow, I can still hardly believe that Oprah is going off the air. It's kind of like when Arsenio Hall went off too. *sigh*