Check out 5 celeb-inspired 'dos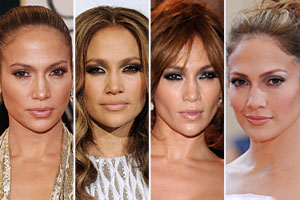 This is a TotalBeauty.com celebrity hairstyles article
See five of the best hairdos from four different celebs. Then, find out how to get your fave look with these simple steps.
If you need to cover a tattoo for your destination wedding, for some beach weddings or just for a work opportunity ( Do you know how many celebrities have tattoos? Lots!) try a primer before you apply a concealing product.

What a primer does is prepare the skin to hold onto the concealing product better.
A waterproof version such as the Dermablend stick you see me holding is good for sweaty weather like Arizona or humid weather like Texas!
What you do is apply the primer to dry skin
I like to use a yellow color corrector over blue/dark inks to even out the cover up
Then use the concealing product of your choice, and Dermablend is a good choice!
Next use a foundation brush or sponge to blend and stipple over the coverage area.
I find that stippling, which is the process of pressing up and down on the skin with the sponge or brush -it presses the product into the skin.
You can go back over the area and feather blend the corners to make smooth.
I rarely cover my tattoos but if I have to, I have some good products to use.
Be sure and set the concealed area with translucent powder.
If you are really going to be sweating or around light fabrics I would set the powder with hair spray ( Aqua Net anyone?) or a professional product fixer you can get at any costume/theatre shop.
-Oh my goodness, on a side note-can you believe the offical last season of Oprah premiered? I love that she had her good friend John Travolta on to launch it. Next up Wynnona, betrayal, a return to West Virginaia and something that hasn't been announced yet. Wow, times are a changin'!
Remember: you are beautiful! Thank you for visiting the blog and check back for promotions and beauty giveaways!