Find out how to squeeze a bit more bliss into your busy schedule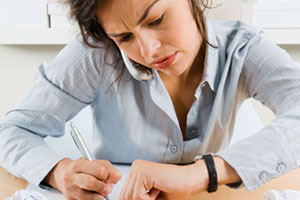 This is a TotalBeauty.com health & beauty article
Take this quiz to find out how starved you are for me-time and what to do about it.

Happy Friday! Thank God it's Friday! Fall 2010 beauty trend is all about bangs and for those of us who are not about to cut our bangs only to find out four weeks later that we need a trim or to grow them out again; read on about how to snap some in!

The photo shows me wearing the bangs and also as a goatee!

Kymaro makes so many beauty products that are perfect for a busy gal! You can see more of their line of products at www.ubuyez.com


Like any other wig or hair piece there are two small clips that pop open a few comb teeth that you fasten to your hair and then pop close.
It's super easy and holds on thin hair too! My hair is thin and I had no problem holding the bangs in place while I wore them through a busy day!
I did also snap them on my toddler and though he thought it was funny looking, it didn't hurt or pull his hair. Good to know-these bangs are kid tested and approved.



Below is a short how to video to see the pop on and pop off action of the Kymaro bangs.
I'm wearing the Espresso color in the photos and the Chestnut shade is up for grabs.
If you want the Kymaro bangs, subscribe to the blog and YouTube channel. One lucky Chestnut ( or not!) colored hair person ( open to gals and guys!) shall score some simple Fall 2010 beauty trend!



p.s. Did anyone see Naomi Campbell on Oprah yesterday? I kind of feel like these bangs look like the wig/weave she is wearing on the show. Either way, I'm liking them!
Remember: you are beautiful! Thank you for visiting the blog and check back for promotions and beauty giveaways!