See which high performance products and tools will give you that just-walked-out-of-the-salon look -- at home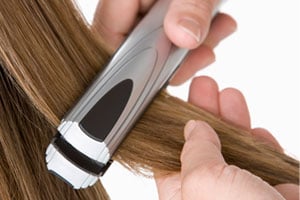 This is a TotalBeauty.com hair care products article
"Shear Genius" third season winner shares her fave hair care products and hot styling tools with us. Pick them up, and then recreate a salon-worthy look at home.
Hello my friends and loves! Here I am all dolled up to go out on a video game host audition. Think G4 produced and done locally-more on that later. For now, it is one of the most asked questions I get "how to apply false eyelashes?"!
So below is a video and in the pictures you can see two versions: 1) just what it looks like with me wearing the brand Robert Reese in the "dangerous" design.
Then 2) a look underneath the lash to see what the pattern of the lashes is.

You can get your Robert Reese lashes at Sephora or by visiting www.robertreese.com Now I must say, it comes with a wee tube of glue that is absolutely lovely!
I mean there is no sting or pull to this stuff and by the time I am writing this the Robert Reese false eyelashes in Dangerous have been on my lids for over four hours!
Seems I can pop these false lashes on in a moment but require several minutes of very gentle removal. I always use a q-tip soaked in eyemakeup remover and I gently rub along the glue line where it is adhered to my eyelid. I also rub along the bottom side of the lashes to soften the bond between the mascara coat I used to tighten the bond to my lashes with the falsies. So on in a flash and off in several steps. I love the look so much that it's worth the extra effort!

Enjoy this short and simple how to video to teach yourself how to apply false eyelashes at home like a pro!


Hey! Remember to get your www.youtube.com/makeupuniversity subscription in so you can be entered to win the Hey Dude! skincare set! I'm pulling a winner soon....
Remember: you are beautiful! Thank you for visiting the blog and check back for promotions and beauty giveaways!