Watch new mom Annalisa get a glamorous makeover for her best friend's wedding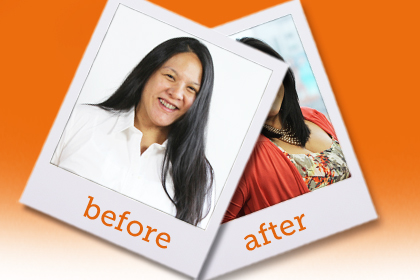 This is a TotalBeauty.com makeover article
Being a bridesmaid is no easy task -- especially when you have to squeeze into that dress soon after having a baby. New mom Annalisa needed a fresh look for her BFF's big day, and she wanted her new 'do to be easy to maintain. Our dream team of makeup artists and hairstylists gave her just that.
Hello Gorgeous!
While I'm a busy Christmas bee-enjoy this hot nail art holiday trend interview!
###
Exclusive interview with Yahoo! Shine, Deborah Lippmann (celebrity manicurist and creator of luxury nail, hand and foot care products), revealed why nail polish was the beauty trend of 2011:
· In 2011, nail polish sales were up 59% (better than any other beauty product in these tough financial times)
· Both colored lacquer and top/base coat sales were up 50%, which implies ladies are giving themselves complete at-home manicures
· Five specific reasons why nail polish has become so astronomically popular this year – Variety, Nail Innovations, Celebrity Collaborations, New Creations, We're Less Conservative
· On being recession-proof: "Originally, women may have been doing it as a necessity when they were impacted by the recession, but now women are doing their own nails because it's fun and they're into it. Recession or not, nails have become an affordable accessory."
· On the therapeutic pleasure: "It can be therapeutic, a time for girlfriends to spend together, and bonding time for mothers and daughters."
· On expressing yourself: "Nails have become a way to express feelings and creativity. It's not only about the color, but it's about being beautiful and finished."
· 5 specific reasons why nail polish has become so astronomically popular this year:
1. Variety: There are SO MANY COLORS and we want them all. Back in the '80s there were red shades and pink shades. That was basically it. In the '90s, lines like Hard Candy and Urban Decay introduced more vibrant and obscure shades, while dark red colors inspired by Chanel's Vamp were also popular. But now if you're looking for yellow, green, blue, purple, neon, metallic, or glittery polish it exists in many variations and different price points. Lippmann told us, "Women feel different when their nails are different shades, and we like being able to state what our mood is by showing it on our nails. People email me, saying that they're wearing a certain shade because they're feeling a certain way—nail lacquer has become a way for women to express themselves." Some of her popular shades this year were Yellow Brick Road (which Lippmann herself painted on Lady Gaga) and Billionaire, a moody hunter green.
2. Nail Innovations: In the past few years, we've seen so many new items on the market and Lippmann believes the consumers are calling the shots. "More options in the nail world became available because of the demand," she told us. "Women are willing to explore different nail options right now. I don't think that all of the nail options that are available now would have worked at another time—we have seen some of these products in the past, but the time is right, so things that didn't work before are working now because there's a demand for it." There's magnetic nail polish, scented nail polish, heat-activated color-changing nail polish, nail decals, Crackle top coats in numerous colors, Konad stamp plates, gel and Shellac techniques that last for weeks at a time, and stickers like Sally Hansen Salon Effect nail polish strips to make designs achievable. You don't have to be artistic to master using these tools. All you need is a steady hand and enough time for your polish to dry.
3. Celebrity Collaborations: Just as many stars have their names tied to clothing lines or fragrances, they've jumped on the nail lacquer bandwagon. Deborah Lippmann often collaborates with stars on signature shades, while Justin Bieber, Katy Perry, Lady Gaga, the Kardashians, Nicki Minaj, Serena Williams, and the Muppets have all recently launched nail collections. If famous people we like are behind them, many are often more inclined to buy.
4. New Creations: Thanks to creativity and a whole lot of online tutorials, French manicures are no longer the only manicure variation. We now see ombre nails, half-moon manicures, polka dot nails, checkerboard nails, newspaper nails, marbled nails, and nails with turkeys or Hello Kitty on them--you name it!
5. We're Less Conservative: Bright nail colors used to be for kids, but now career women will have gray or Navy blue nails. Old ladies will be rocking purple or orange nails. Manicures don't have to be so serious and many institutions are realizing that (duh) women can have fun with their nails and still get the job done.
Remember: you are beautiful! Thank you for visiting the blog and check back for promotions and beauty giveaways!