With these manis, chipped nails will be a thing of the past -- see them now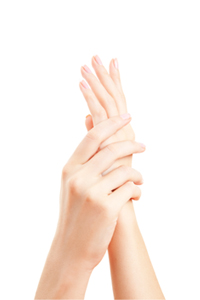 This is a TotalBeauty.com nails article
We admit we're just a little (okay, a lot) obsessed with our nails. We're up to speed on every new nail art design, stick-on, and trendy color. So when we found out there were three new processes that promised to make our manicures last, we had to check them out. Want to see what they are?
Hey Gorgeous-it's almost New Year's Eve!
What changes are you making to create a life you love?
Are you doing any personal changes to help improve your health and beauty?
Before we wax deep and get all Tony Robbins' on ways we could improve ourselves-why don't we start with something for immediate beauty gratification and that's temporary at that!
See the color wheel of hair extension samples? Pick the hot pink and wear it for your New Year's Eve 2012 party!
There are two types of "SHE by SO.CAP.USA extensions to choose from: a simple clip in extension for a short, temporary look or a keratin bond for a longer lasting effect.
In this video I am wearing the clip in "SHE by SO.CAP.USA extension which is a hot pink look, and I have the keratin bond which is the cotton candy pink look on the other side.
Enjoy-then stay tuned for a Britney Spears video which she is wearing the http://www.pinkhairforhope.org/ pink extensions.
and then...
No matter which you extension option you choose, make sure it's So.Cap.USA for best quality!
Remember: you are beautiful! Thank you for visiting the blog and check back for promotions and beauty giveaways!