Hi Gorgeous,
Happy Sabbath! #TGIF and Shabbat shalom
! Oh am I ever ready for a Friday. I'm currently en route to Tucson, home of the
Arizona Wildcats U of A
and the location of a funeral for a dear friend.
I'm glad to be making the trip though sad for the reason. The scent I am wearing today is the 12th and newest scent by
Mariah Carey called Dreams
. I chose this for the trip because the woman who passed was such a dreamer and always encouraged myself and her loved ones to dream out loud. And big!
Enjoy the review and get your booty down to Kohl to sample the scent and possibly get some for yourself!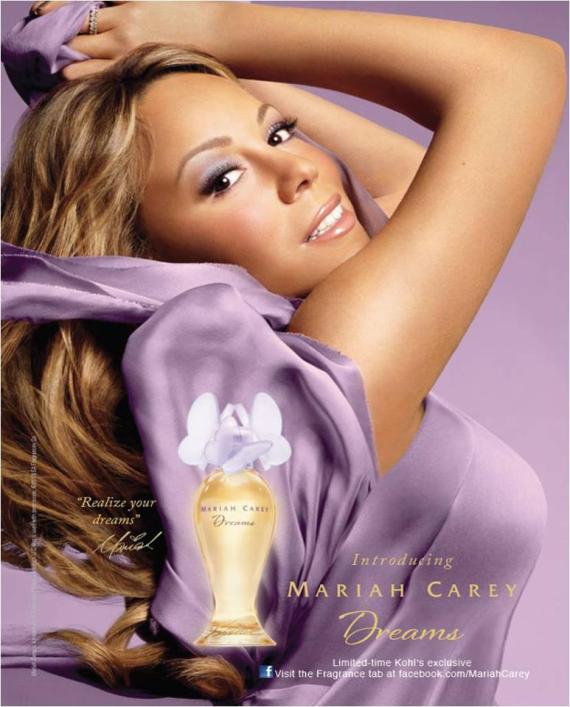 Dreams
is the name of the new fragrance by
Mariah Carey
, which comes out in Spring 2013. The perfume is announced as a sensual floral-gourmand with each note symbolizing a certain moment in the life of this famous singer, from childhood through fame to love.
The composition begins with delicious aromas of salty caramelized apple and star anise combined with freshness of bergamot and roasted almond scent. Sensual honeysuckle is mixed with delicate freesia and lily of the valley, creating the feminine core. Warm musk, patchouli, tonka bean and vanilla from Madagascar are placed in the subtle oriental base.
The fragrance is available as 50 and 100 ml Eau de Parfum. Exclusively at Kohl's for about $49.99 and keep your eyes out for Mother's Day gift sets that come with a free body lotion or body wash.
Notes details from www.fragrantica.com
P.S. It is a sweet fragrance and I really smell the caramel in this scent. Which is a good thing.
Remember: you are beautiful! Thank you for visiting the blog and check back for promotions and beauty giveaways!
By the time Friday night rolls around, you may feel ready for a girls' night out, but do you look ready? We're here to help
This is a TotalBeauty.com makeup article
There's always one sure-fire remedy for a long week of deadlines, meetings, and computer screen glare: a girls' night out. But if you're just swiping on some chapstick as you walk out the door, it's safe to assume that another gaggle of girls will be stealing your thunder once you get to the bar. To help make sure this doesn't happen, we enlisted makeup artist Jenna Anton and master designer for The Doves studio Eddie Neyangthavong to give one girl a much-needed makeover for her girls' night out. Click ahead to see the expert tips and tricks you can use on yourself before your hit the town.