Hello Prom Purties!
I consider these a prom must! Invest in these! Why? Because I was not wearing it on one of my rings while at a concert. After washing my hands, I dried them with a towel, went back to my seat and was thoroughly enjoying myself.
That is-until I got into my car and began to back up out of the parking spot when I looked at the steering wheel, noticed my hands and in particular that my diamond ring was MISSING!
I have Bling Dots and Bling Guards but I didn't put them on that night. Oh how I wish I did! For your prom costume jewelery or real jewels-get some Bling Guards!
Introducing new BlingDots, Earring Supports and Stabilizers.
These innovative and disposable jewelry supports relieve the pressure and weight of your earrings AND position them perfectly!
Easy to apply, these discreet backs are made with a cushiony-soft, hypoallergenic foam. BlingDots won't irritate skin – they use a pressure-sensitive adhesive and a post-hugging grip to position earrings face forward while adding extra security when you wear them.
Women with stretched earring holes can now wear pierced earrings with comfort and confidence, and those who once needed clip-ons to wear heavier earrings can once again wear pierced earrings. Forget tugging, pulling or tilting – your earrings will ride high and look better than ever before.
Exceptionally Comfortable
Discreet
Easy to apply
Disposable
Hypoallergenic and latex-free
Suitable for all ages and skin types
Perfect for chandelier, hoop or stud earrings, lapel pins and brooches
BlingDots also work with pins, brooches and badges by supporting the weight of your jewelry, protecting the fabric and reducing the risk of item loss if the regular backing comes off.
$14.99 for 45 disposable pairs, 90 individual dots
GET YOUR PROM BLING DOTS AND BLING GUARDS HERE!
Introducing new BlingWraps, Invisible Ring Guards.
Whether he's put a ring on it or you've treated yourself to a gorgeous gift, keep your stunning stones on top, and stop them from turning, twisting or slipping off your finger with these easy-to-use, disposable ring size adjusters.
The hypoallergenic, latex-free band adds 1+ ring sizes to your finger and forms an invisible "padlock" to hold your rings in place.
Invisible
Comfortable
For most ring sizes
For all skin types
$14.99 for 30 Disposable Bands
Remember: you are beautiful! Thank you for visiting the blog and check back for promotions and beauty giveaways!
From spot-on color descriptors to clever double entendres, we rounded up the best shade names of all time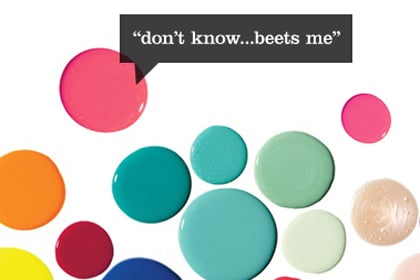 This is a TotalBeauty.com nails article
Sure, the color of nail polish in the glass bottle is a big deal, but the next thing you do is flip the bottle over to read the name written on the bottom. If that name makes you roll you eyes, it's going back on the shelf. If it makes you laugh out loud, there's a good chance it's getting painted on your fingers and toes. We compiled a list of the 25 best nail polish names that are clever, funny, and just simply spot-on. Click ahead to see if your favorites made the list.