Hey ya Purty!
It's Black Friday and for me that means I am at Legoland with my family. For those of you who are out shopping, good luck!
Now, it is time to get your holiday manicures ready and if you need a new texture and nail art polish to try, please try the Nail Rock Nail Velvet, Nail Rock Nail Caviar and Nail Rock Nail Sequin polishes for a party look that is fun and classy at the same time!
The product is so easy to use, and makes for a fun manicure. I finished my pre-Thanksgiving dinner party manicure with the velvet which is my favorite and the caviar. Yes the glitter is nice, but I like the fuzzy texture best!
Now here is a bit more about the product and remember, you can get some online or at your local Walmart, just in time for fuzzy nails for Christmas!
Price: $ 6.00
Colors: Navy & Burgundy
Sizes - The polish is 10ml or 0.3 fl oz and the velvet is a 5g or 0.18 oz
Website- www.rockbeautylondon.com
HOW TO NAIL ROCK - Textures
1. Push back cuticle and shape and file the nail edge
2. Gently remove surface shine using a nail buffer or a smooth nail file.
3. Select the Nail Rock wrap nearest to your cuticle size.
4. Place at the cuticle edge and press firmly onto the nail.
5. Stretch firmly over the free edge of your nail and use your nail or a wooden hoof stick to tuck under the free edge.
6. Taking a smooth nail file, remove excess wrap by running file under the nail.

TO REMOVE

Starting from the nail edge, peel off the Nail Rock.
FIND OUT HOW TO ROCK YOUR NAILS
Remember: you are beautiful! Thank you for visiting the blog and check back for promotions and beauty giveaways!

How to Salvage Your Busted Blush
And six other quick fixes for your broken makeup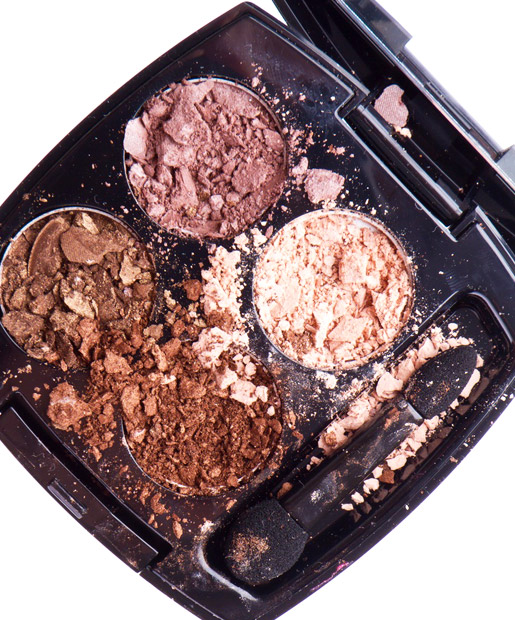 This is a TotalBeauty.com
Makeup
article
There's nothing worse than that "oops" moment when your compact flies out of your hand and hits the floor. Yep, it's broken. Busted. Smashed to smithereens. The makeup you threw hard-earned cash at is now reduced to chunky flakes of powder. Wanna know the secret to getting it back to its original form? Of course you do. Click through to find out how to return your busted blush to its former glory, along with six other broken makeup fixes.