Hello Gorgeous!
Oh, here is a fave brand that I haven't experienced in a while but have been re-introduced at the Generation Beauty YouTube Space LA party.
Yeah, I know. It was several weeks ago and I am just now getting to posting about it!
The travel has been crazy amazing! I'm blessed and glad for it, though I have yet to figure out how to blog while on the road! If you have any info, tell me please!
So the
Vincent Longo
brand has been around since the early 1990's creating makeup face designs for the Glamazon super models Cindy Crawford, Cristy Turlington and Linda Evangelista.
Enter, me. Not quite a super model but willing to try any makeup and already a fan of the Vincent Longo brand.
The Vincent Longo products are available online, and at Sephora! Get some for your summer look!
Included in the Generation Beauty YouTube Space LA swag bag was this wee gift bag from Vincent Longo.

How to Be a Bronze Goddess on Your Wedding Day
Tips for getting the perfect faux glow on your big day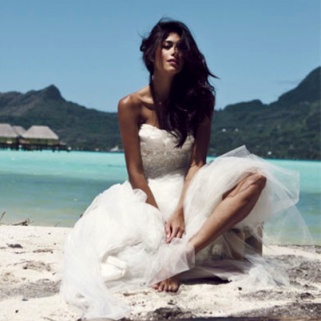 This is a TotalBeauty.com Skin Care article
Sure, a nice tan would complement your white wedding dress perfectly. And luckily, with a nice spray tan, you don't have to bake in the sun (and risk skin cancer) to get the bronzed skin of your dreams. But sometimes, faux-tanning can go horribly wrong (the scene in Bride Wars where Anne Hathaway turns orange comes to mind). To avoid an Oompa Loompa-like mistake, read our list of tips before booking your spray tan.
Remember: you are beautiful! Thank you for visiting the blog and check back for promotions and beauty giveaways!