Happy Tuesday beautiful Gorgeous!
I am loving the ease and packability ( is that a word?) of cleansing wipes. I just tried a new version of moisturizing cleansing wipes for dry and sensitive skin from
Atopalm.
Right now on the
Atopalm
website offers free shipping on this item and it sells for $12.99
Here's some details about it:
Atopalm Moisturizing Cleansing Wipes are the perfect way to end - or begin - each day. The wipes remove all traces of makeup, debris, excess oils, and impurities while supplying the skin with antioxidants and moisturizers. After use, the skin feels refreshed, pure, and hydrated, leaving it perfectly prepped for your next skin care step.

*Free shipping is only available when purchasing single package of wipes with other Atopalm product, or purchasing the duo package. Free shipping is not available with a purchase of the single pack of wipes solely.
I have put mine in the car so that after running and biking in the heat, I can easily wipe the dirt, sweat and sunscreen that is now gritty off of my face. Funny, my car has a mini beauty bar in the console! Everything I need to go from sweaty runner to business look!
I also sampled the
Atopalm
moisturizing body lotion in the 10 ounce size. I have really dry itchy skin and this lotion provided some much needed relief and helped smooth away the ashy look of my sun parched skin. It's paraben free, for dry and sensitive skin and in my opinion does not have a scent.
A

topalm Moisturizing Body Lotion is a lightly textured body cream formulated with MLE technology. This specialized formula is able to replenish lost moisture by mimicking the body's natural lipids while simultaneously protecting against future hydration loss. The result is perfectly soft, supple, and hydrated skin.
Visit the website to learn more!
No need to take my word for it, simply visit
http://www.Atopalm.com
and get some for yourself! You can also get it at drugstore.com and the Apothecary.
Remember: you are beautiful! Thank you for visiting the blog and check back for promotions and beauty giveaways!
Stressed? Try one of these calming yoga poses in the comfort of your own living room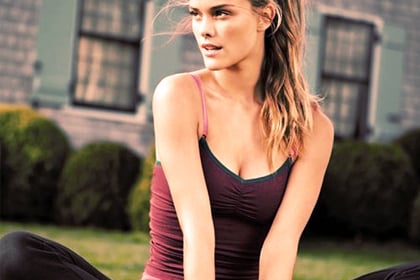 This is a TotalBeauty.com Fitness article
With a busy schedule that piles on the stress, fitting in a yoga class is more wishful thinking than reality, right? Well, here's some good news: You don't need a whole hour and a half yoga class to unwind. To help you de-stress on a more regular basis, we put together a series of simple yoga poses that you can do at home. So, focus on your breath, put on some relaxing music, and try these poses that'll detoxify all the crazy stuff going on in your life.