Oh happy Mother's Day to all the mommas of the world!
And for those slouches who have waited to the very last minute to get a Mother's Day gift-no worries.
Simply visit the closest Walgreen's and pick up a couple of bars of SheaMoisture's oversized exotic ingredient filled soaps.
These are amazing bars that last, are organic, there are no parabens, phthalates, paraffin, gluten, propylene glycol, mineral oil, synthetic fragrance, animal testing, paba, synthetic color, DEA or sulfates plus they are cruelty free.
All of that for $4.99! So be sure and buy a couple for you mom and a couple for yourself too!
The Coconut & Hibiscus Shea Butter bar has a matching bath, body and massage oil-talk about a great pair.
I've used mine and I love how the oil moisturizes and absorbs into the skin. It's a real treat! It sells for about $9.99.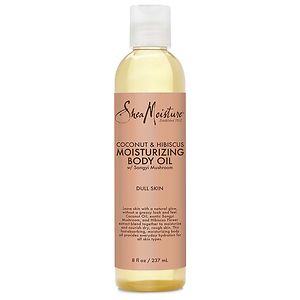 To Balance & Resolve Trouble Skin
Brightening & Toning

Healing, hydrating & calming

With vitamin E

No parabens, phthalates, paraffin, gluten, propylene glycol, mineral oil, synthetic fragrance, PABA, synthetic color, DEA or sulfates

Cruelty free, no animal testing

Certified organic ingredients
Our all-natural blend of Shea Oil, Coconut Oil and Hibiscus Flower moisturize, pamper and delicately scent the skin.
Coconut Oil
Nourishes skin with vitamin E and K, iron and fatty acids.
Hibiscus Flower
Its anti-inflammatory benefits help to soothe and heal skin.
Vitamin E
Highly effective in protecting skin cells from free radical damage.
Our Story
Sofi Tucker started selling Shea Nuts at the village market in Bonthe, Sierra Leone in 1912. By age 19, the widowed mother of four was selling Shea Butter, Black Soap and her homemade hair and skin preparations all over the countryside. Sofi Tucker was our grandmother and SheaMoisture is her legacy. With this purchase you help empower disadvantaged women to realize a brighter, healthier future.
Ethically traded ingredients sustainably produced.
Pioneering Community Commerce & Fair Trade Since 1912.
Remember: you are beautiful! Thank you for visiting the blog and check back for promotions and beauty giveaways!