Hey Purty!
TGIF! Thank God it's Friday! And, it's almost
Mother's Day
. Have you picked out a gift yet for your Momma?
Maybe some fun, whimsical gifts with a positive message?
Natural Life works to inspire happiness with positive messages that provide a great foundation for those who wear them, use them and share them.
Travel Pouches
$10.00 each
Bring your favorite shampoo, conditioner and body wash as you travel with the Natural Life Travel Pouch. These clear travel pouches include three 3oz. bottles and are air travel approved for frequent fliers.
Tie-Dye Bracelet/Hair Bands
$4.50 for two
These ultra-comfortable, retro-inspired hair bands are perfect for when you're on the go. The elastic will not leave a dent in your hair making it the perfect accessory for a flight. Wrap up your hair in a top knot for the flight and let it down when you've reached you destination for full waves. They also double as a bracelet.
Rhinestone Emery Boards
$3.50 each
Function doesn't have to be boring. Inspiring sayings and designs with rhinestones make filing your nails fun as you travel.
Remember: you are beautiful! Thank you for visiting the blog and check back for promotions and beauty giveaways!
We hit the streets of LA and asked local fashionistas about the hottest spring trends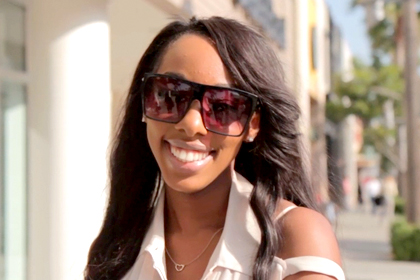 This is a TotalBeauty.com video article
We get a lot of style inspiration from the runways of fashion week and celebrities walking on the red carpet. But at the end of the day, we look to real women who are executing the latest fashion trends in an affordable, wearable way. That's why hit the trendy streets of Los Angeles and talked to LA's real-life fashionistas to get the 411 on all the spring fashion and beauty trends. Keep clicking to get the scoop on what's hot this season.